Chinese music finds new audience in Columbia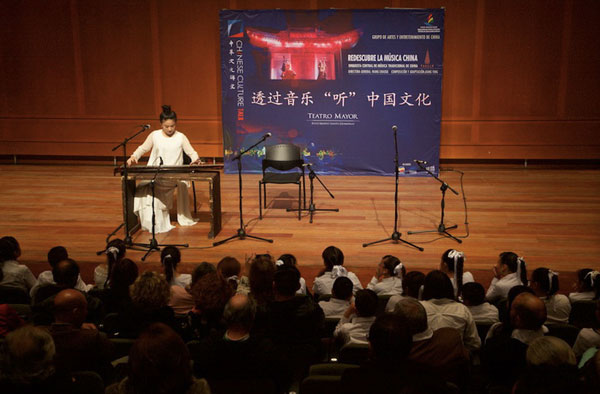 A musician demonstrates ancient Chinese musical instruments in the Julio Mario Santo Domingo Theater in Bogota, Columbia, on Nov 18, 2016. [Photo/Chinaculture.org]
The China National Music Orchestra has played before a packed crowd in Bogota, Columbia. More than 400 people came to hear about Chinese folk music and musical instruments at the Julio Mario Santo Domingo Theater, in the country's cultural hub. 
Liu Sha, commander of the China National Music Orchestra, gave a comprehensive and enthusiastic demonstration of three typical ancient Chinese instruments: guqin (a Chinese zither), pipa (a Chinese lute), and erhu (a two-stringed musical instrument).
"I start with introducing guqin, a 3,000-year-old Chinese musical instrument, because it's a symbol of friendship in Chinese culture," Liu said.
"Guqin is also a representation of elegance. Playing with the instrument was a popular way of soothing people's souls in ancient times," Liu added.
Three Chinese musicians later performed celebrated Chinese melodies including an erhu solo Horsing Racing and the pipa classic Moonlight over the Spring River.
The lecture is part of the Chinese Culture Talks series organized by the Chinese Ministry of Culture.