Music producer Chen Weilun takes delight in mixing genres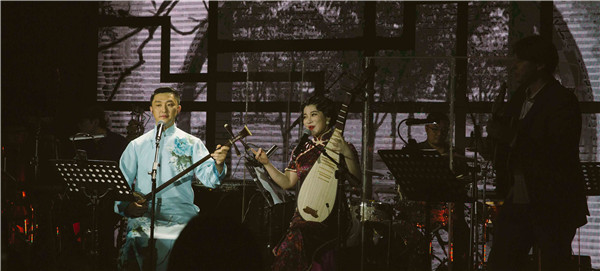 Chen Weilun launches the project China Music House, in which performers of traditonal Chinese operas and folk music share the stage with artists of contemporary music genres. [Photo provided to China Daily]
About 14 years ago, trumpet player Chen Weilun came to Beijing and worked for a TV production company. His early works took him to remote parts of the country to record music.
Such travels also helped him to learn about the folk music of the Miao and Dong ethnic groups.
"They sing when they do anything-from farming to quarreling. Even though I couldn't understand the languages, which are ancient, I could feel the energy and the emotions," says Chen.
During the past decade, Chen, 36, has been working as a producer for indie musicians like Zuoxiao Zuzhou and pop icons such as Li Yuchun. Chen also produced soundtracks for movies such as the AIDS-themed feature film, Love For Life, directed by Gu Changwei, and crime thriller, Lethal Hostage, directed by Cheng Er.
So far, he has released five studio albums, including his debut album, The Vague Night, which feature his favorite trip hop sounds.
But Chen's interest in "something old and Chinese" drew him to embark on a bold new direction in his career, to challenge himself musically and creatively by linking traditional Chinese operas and folk music with jazz, electronic and rock, among other contemporary genres.
Labeled as China Music House, or Xin Yue Fu, the project was launched in 2014 and has toured the country with opera performers, players of Chinese traditional instruments, DJs and Western artists. Live shows have been held in Beijing, Shanghai, Nanjing and Suzhou, drawing more than 20,000 people.