Music makes its mark abroad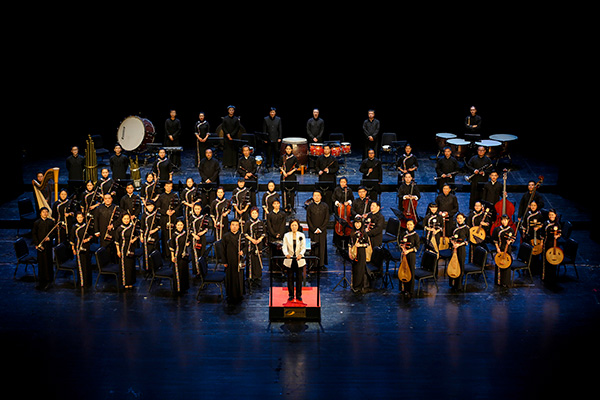 Chinese Traditional Orchestra of the China National Opera & Dance Drama Theater will be one of the four folk music orchestras to join the upcoming Grand Chinese New Year Concert tour in Europe. [Photo provided to China Daily]
The upcoming annual Grand Chinese New Year Concert, which turns 20 next year, has toured more than 20 countries, and 13 Chinese folk music orchestras have performed. Chen Nan reports.
Chinese conductor Hong Xia had her most memorable birthday as she led the Chinese Traditional Orchestra of the China National Opera & Dance Drama Theater at the KKL (the Culture and Convention Centre) in Lucerne, Switzerland.
As the show ended on Jan 29, 2016, Wu Jiatong, CEO of Wu Promotion-one of China's first private touring companies and promoters-which was organizing the orchestra's European tour, came onto the stage.
"When Wu walked to me, I thought he was going to give a short speech," says Hong, who was surprised with cake and flowers.
The KKL is special for Hong because this was the same venue where the late conductor Claudio Abbado (1933-2014) gave his final concert.
"Abbado is one of my favorite conductors and I felt honored to be at the venue," says Hong, a graduate of the Shenyang Conservatory of Music.
The concert was a great success with a full house of over 2,000 giving the orchestra a prolonged ovation.
On Jan 27, 2017, Hong will again lead the Chinese Traditional Orchestra at the KKL as part of its upcoming European tour, which will kick off on Jan 16 from Budapest, Hungary, and conclude in Erl, Austria, on Jan 29.
Speaking about last year's KKL concert, Hong says: "I thought the bulk of the audience for a traditional Chinese folk music concert would be overseas Chinese. I did not expect that the majority of the audience would be Westerners," she says.
"Their warm feedback was encouraging, and we are looking forward to our upcoming show."
The upcoming program will feature well-known music pieces, including The Great Wall Capriccio (erhu concerto) by Chinese composer Liu Wenjin (1937-2013) and Lingering Snow on the Broken Bridge composed by Liu Xijin.