Music makes its mark abroad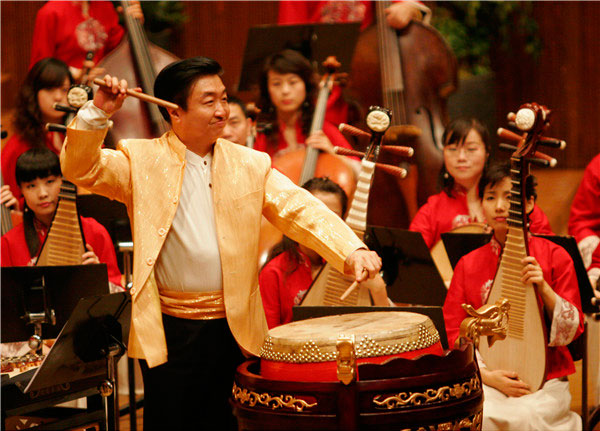 Drummer Chen Zuohui performs at a 2008 Chinese New Year concert. [Photo provided to China Daily]
So far, the Grand Chinese New Year Concert shows have been seen by more than 300,000 people in more than 20 countries. And 13 Chinese folk music orchestras have performed as part of the project, presenting the sounds of the horse-headed fiddle from the Inner Mongolia autonomous region and the Cantonese melodies from the gaohu (a Chinese bowed instrument) among other items.
Switzerland has hosted the largest number of Grand Chinese New Year Concert shows, starting in 2006, when Wu Promotion took the China Traditional Orchestra Zhejiang to perform at the KKL under the baton of conductor Zhang Guoyong.
On that visit to Switzerland, Wu says Swiss Television gave six hours of coverage to the event, including broadcasting the concert and documentaries on traditional Chinese musicians and their instruments.
Since then, Wu Promotion has taken many Chinese music orchestras and art troupes to Switzerland.
Separately, it has also brought Swiss art troupes to China, including The Grand Theatre de Geneve Ballet Company, which toured China in April 2016.
Meanwhile, at the 7th Peking Opera Festival in Geneva in 2015, the president of The Grand Theater de Geneva, Tobias Richter, spoke to Wu about "moving" the Opera des Nations to China after mid-2018, when the renovations of The Grand Theater de Geneva, built in 1876, are completed.
The Opera de Nations is a wooden theater that served as a temporary venue for La Comedie-Francaise during its renovation. It was refurbished and moved to Geneva to serve as a temporary replacement for The Grand Theater-the biggest opera house in the French-speaking part of Switzerland-during the renovations.
Geneva has agreed to give the Opera des Nations as a friendship gift to China.
"This will be a historic event for both China and Switzerland and will serve as a cultural bond between the two countries," says Wu.