Music makes its mark abroad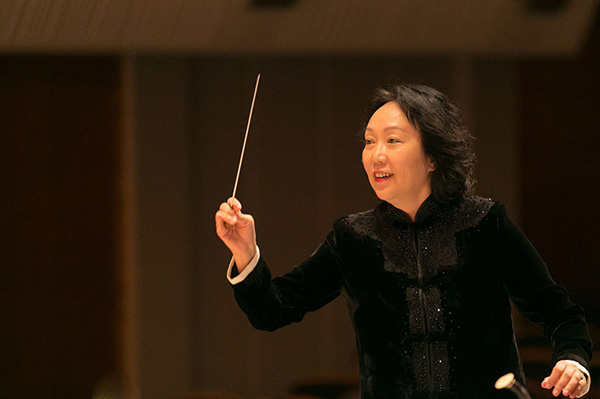 Chinese conductor Hong Xia [Photo provided to China Daily]
The Chinese Traditional Orchestra is one of the four Chinese folk music orchestras that will go abroad during the 2017 Chinese Spring Festival with the support of Wu Promotion.
Called the Grand Chinese New Year Concert tour, it comprises more than 300 Chinese musicians from the China National Opera & Dance Drama Theater, the Guangdong National Orchestra of China, the Zhejiang Traditional Orchestra and the Shaanxi Broadcasting Chinese Orchestra. The tour will cover 27 cities in 14 countries, including Kazakhstan, Russia, Poland, Hungary, Austria, Germany, Switzerland, Finland and the United Kingdom.
According to Wu, each performance will open with an introduction of the program and explain the uniqueness of traditional Chinese instruments, to enable Western audiences to get a better understanding of the music.
"The Grand Chinese New Year Concert tour will celebrate its 20th anniversary next year," says Wu, who founded Wu Promotion with his father in 1991.
The company now produces over 500 concerts and events every year in China and abroad, and it has just wrapped up the China Philharmonic Orchestra's debut tour of Cuba.
Besides the Grand Chinese New Year Concert tour, one of their well-known projects, is their annual Peking Opera Festival, which marked its eighth edition in 2016. It was staged at the Darwin Entertainment Centre, Australia, from Nov 29 to Dec 1.
Despite all the events that Wu Promotion does, the Grand Chinese New Year Concert has a special place.
Recalling the first concert at the Vienna Musikverein in 1998 with the China National Traditional Orchestra under the baton of conductor Chen Xieyang, Wu, who was born in Beijing and pursued his studies in Austria, says: "Tickets were sold out and even the steps at the venue were taken up.
"It was an unexpected success and since then we use the Grand Chinese New Year Concert tour as an annual event to display our traditional folk music to foreign audiences."