Sci-fi saga with a local twist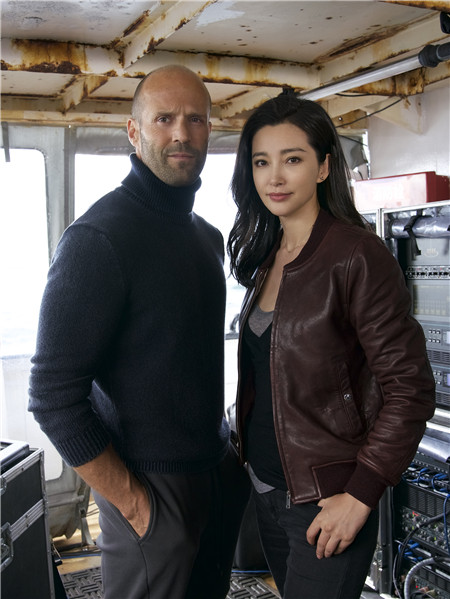 British actor Jason Statham and Chinese actress Li Bingbing will star as a former US Navy deepwater diver and a Chinese scientist in Meg. [Photo provided to China Daily]
The film, based on American novelist Steve Alten's 1997 novel Meg: A Novel of Deep Terror, is about a China-led research program that encounters unknown creatures in the Mariana Trench. Xu Fan reports.
If Chinese fans feel disappointed today that all the heroes in Hollywood sci-fi blockbusters are Western faces, change is at hand. Now, thanks to China's fast-growing film market, the country with a short history of sci-fi novels is becoming a pivotal part of the futuristic world.
Recently, on a rainy morning in Auckland, New Zealand, China Daily-among the first batch of Chinese media-was invited to the sets of Meg, a huge-budget sci-fi tentpole.
On show was a bloody replica of a megalodon's head, two huge tanks meant for water scenes and several transparent "caves" made to counter attacks from killer sharks. It was like an adventurous journey to explore an unknown underwater world.
The megalodon may not be as famous as dinosaurs, but is the largest known marine predator, and lived around 23 to 2.6 million years ago.
A massive and ancient cousin of the great white shark, the megalodon could tear a Tyrannosaurus rex apart in seconds.
So, how does this relate to China? Well, a year from now, audiences on the mainland will get to see the prehistoric creature on the big screen in a story that is closely linked with the country.
The upcoming big action film, jointly produced by Gravity Pictures, a division of China Media Capital, Flagship Entertainment and Warner Bros, will be released across China during the 2018 Spring Festival, which falls on Feb 16, and will open in North America on March 2, 2018.