British and German TV productions each win three International Emmys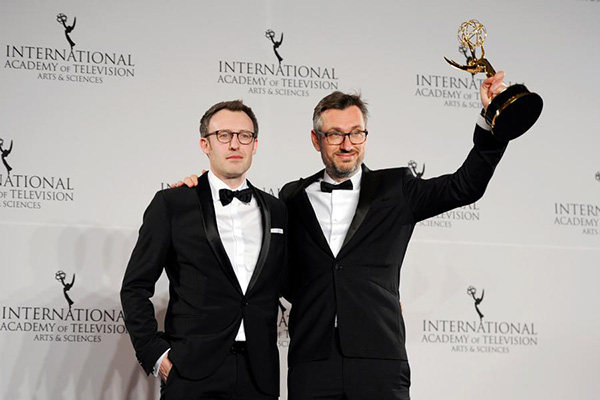 Jorg Winger and Philipp Steffens from the documentary "Deutschland 83" pose in the press room with the International Emmy award in the Drama Series category of the International Emmy Awards in Manhattan, New York, US November 21, 2016. [Photo/Agencies]
A total of 40 nominees from 15 countries competed in 10 categories for International Emmys in New York City on Monday. 
The gala honored excellence in TV programming outside the US. The ceremony was hosted by The Good Wife star Alan Cumming.
British and German TV productions each won three International Emmys Monday night, including acting honors for Dustin Hoffman and Christiane Paul.
Hoffman received the award for best performance by an actor for the BBC One TV movie Roald Dahl's Esio Trot. And Germany's Paul garnered the best actress award for her performance in Under the Radar.
The centerpiece of the awards ceremony at the Hilton New York came when Tony Goldwyn, who stars as President Fitzgerald Grant in the Washington drama Scandal, presented the honorary International Emmy Founders Award to the show's creator Shonda Rhimes.
Germany won Emmys for the drama series for Deutschland 83, while Britain's Hoff the Record won in the comedy category Capital.
The award for arts programming went to Japan's The Man Who Shot Hiroshima.
Other awards went to Sweden's The Great Swedish Adventure for non-scripted entertainment and Brazil's Hidden Truths for best telenovela.
Related:
'Travel With a Superstar' continues in Australia