'Travel With a Superstar' continues in Australia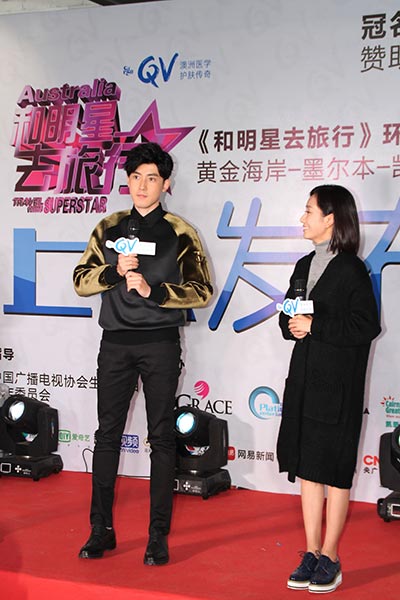 Chinese actor Zhang Rui (left) and actress Dong Qing (right) shared their unique experience in a recent press conference in Beijing. [Photo provided to China Daily]
The second season of the Australia part of Chinese reality show
Travel With a Superstar
recently premiered online, with a new episode each week. Chinese actor Zhang Rui and actress Dong Qing will share their unique experience in the show.
"It's our first time to the country. It's an excellent trip! The Australians enjoy a lifestyle of sports, leisure and entertainment," Zhang said.
Dong, meanwhile, was attracted to the natural beauty of Australia and enjoyed breathtaking adventures such as sky diving, diving and drifting. They also visited Ego Pharmaceuticals, a producer of skin care products in Australia, and its labs and research center.
Unveiled this year, the first season was about a road trip via caravan around Sydney and Melbourne, which attracted more than 20 million hits in total. The second season is about adventures in the Gold Coast, Melbourne and Cairns. The Australia series shooting is expected to be completed within three years, which will demonstrate the country's culture heritage, natural scenery, delicious food and deep culture.
Related:
New TV series features heartthrob actors, royal tension