Ang Lee on new attempt: It was a matter of trial and error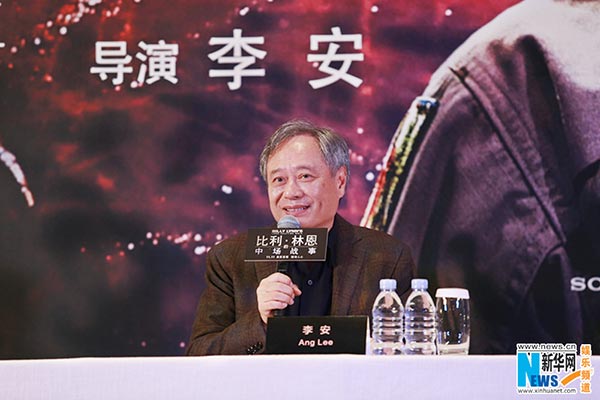 Director Ang Lee speaks during a press conference of Billy Lynn's Long Halftime Walk in Beijing on Nov 6. [Photo/Xinhua]
At 62, director Ang Lee says he is still learning.
"I am 62 years old, but I am still learning. My pursuit for more in filmmaking is part of that learning process," Lee said during a press conference in Beijing for his latest film, Billy Lynn's Long Halftime Walk.
It has been four years since the two-time Oscar winner (Life of Pi, Brokeback Mountain) has brought a new work to the public eye. And this time, he has done so in an unprecedented format - 3D, 4K resolution and 120 frames per second, five times faster than the average movie and the first film to be shot entirely at that high frame rate.
"I wanted to be the 'lab rat'. Even if it's done at the price of 'going against' the viewing habits of moviegoers, I wanted to bring a new possibility to films of the future," Lee said.
The wartime feature follows a 19-year-old Army specialist (played by British newcomer Joe Alwyn) as he returns home from the battlefields of Iraq for a two-week victory tour in 2004. He is then honored during a halftime tribute at the Dallas Cowboys' Thanksgiving game.
The titular soldier, Billy Lynn, is labeled as a hero after trying to save his comrade (played by Vin Diesel), who is killed action. He finds his allegiances torn apart between his fellow soldiers, who are set to return to Iraq soon after the game, and his sister (Kristen Stewart), who wants him to stay behind and get treatments for his PTSD.
Lee said he was drawn to the poignant coming-of age story of the protagonist, as a soldier of few words grapples with the public's expectations of and for him. Moreover, he was mesmerized by the cinematic possibilities, particularly in battle scenes and the halftime show.
To shoot at 120 frames per second means bringing reality in its most entirety to the viewers. "If a scenes requires you to be shy, each one of your pores need to express that emotion. Everything is exposed," Lee said.
"I was quite afraid because I didn't know how it would turn out. It was a matter of trial and error. But once people get used to it, we can shoot anything with it, even romantic comedy."