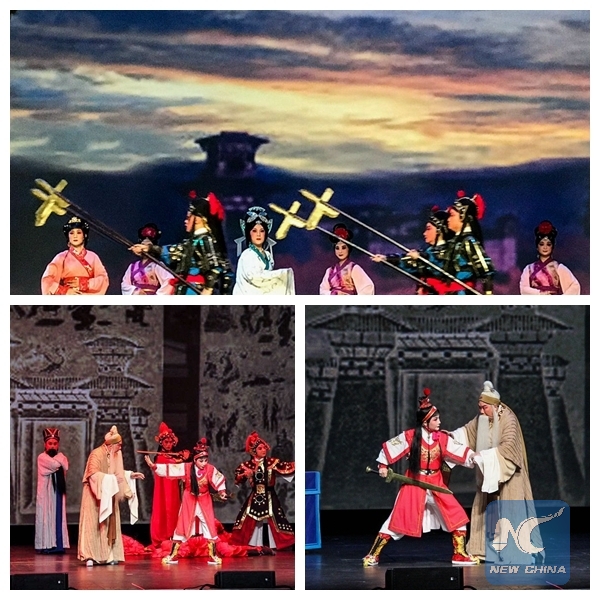 Stills provided by Henan Yu Opera via Xinhua. [Photo/Xinhua]
Chinese Henan Yu Opera Cheng Ying Rescues the Orphan debuted at Dolby Theater in Hollywood, Los Angeles on Tuesday night, with a touching story and seasoned performance.
The opera, which has been circulated and reinvented in different art forms for more than 2,500 years, tells a story about Cheng Ying, an imperial physician who rescued a noble's child and the dramatic events happening afterwards.
Adapted by the renowned Henan Yu Opera No. 2 Troupe, the new version of this play has been performed for over 1,400 times since 2002 in 22 different countries and regions worldwide. Led by Li Shujian, a Chinese first level performing artist, Cheng Ying Rescues the Orphan has been performed on all sorts of stage, from small stages in villages to the New York Broadway Theater in 2013.
"This opera is a celebration of classics, realism and romanticism," said Li, "it has inherited the soul of Peking Opera, drew the truthfulness of modern drama and kept the typical charm of Yu Opera."
"The reason why audiences love our show, despite of their different languages and cultural backgrounds, is that we combined the character of roles in the story with ourselves as well as audience in the performance," Li told Xinhua.
"It was a very very sad story for me that I was not expecting that," said Michaelyn Dubof after watching the show, "it was very interesting and I have never seen anything like it before, though I have visited China."
Related:
Peking opera staged in Mexico during 44th Int'l Cervantino Festival