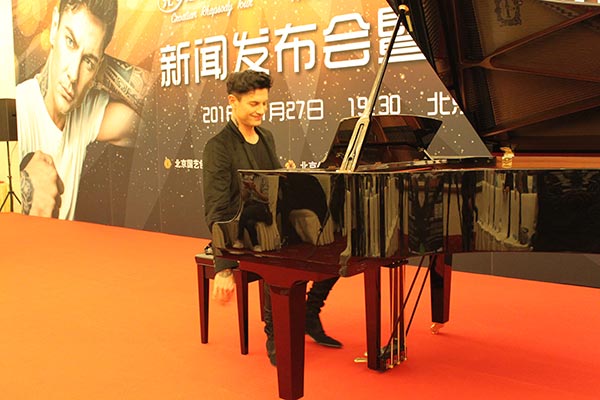 Croatian pianist Maksim Mrvica. [Photo provided to China Daily]
Croatian pianist Maksim Mrvica has launched a tour in China by visiting 26 cities, including a Beijing concert on Nov 27.
Titled Croatian Rhapsody Tour, he will play eight new pieces from his album, Croatian Rhapsody.
With his band, the pianist will add electronic and symphonic elements to his performances.
The upcoming tour will conclude on Dec 18 in Shanghai.
Always eager to work with Chinese musicians, Mrvica says he will perform with Chinese erhu player Zhao Lei during his tour.
"Every time I visit China, I feel the audiences' growing passion for music, especially the young people," says the 41-year-old pianist, who was born in Šibenik, Croatia, and took up piano lessons at the age of 9.
He won his first major competition in Zagreb in 1993, which made him determined to become a professional pianist. He went on to study at the Music Academy in Zagreb before he spent a year at the Franz Liszt Conservatoire in Budapest.
His debut CD, Gestures, was released in 1999. It became one of the fastest-selling classical recordings to be released in Croatia.
In 2000, he moved to Paris to study with Igor Lazko and won first prize in the Pontoise Piano Competition in 2001.
His career as a crossover pianist started when he met British impresario Mel Bush, who helped him release a string of successful albums, including The Piano Player.
"As a young man, I loved a variety of music, especially electronic music, though I was trained as a classical pianist. I am lucky to be able to explore music without boundaries," says Mrvica. "Sometimes classical music is difficult to listen to, but crossover production makes music easy, especially for the young audiences."
Related:
Sixth Yangtze River Piano Festival opens in Yichang