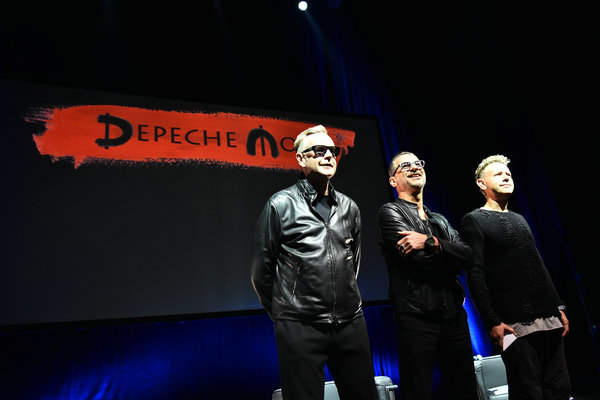 Members of rock band Depeche Mode (from left) Andrew Fletcher, Dave Gahan and Martin Gore promote their upcoming album Spirit in Milan. [Photo/Agencies]
Amid rapid advances in electronic music, Gore says that Depeche Mode was attentive to staying up-to-date on technology-and was proud of rejuvenating the group's fan base.
"We are fortunate that we keep appealing to young people. It's not just the people who grew up with us and were fans of us in the 1980s," Gore says.
Depeche Mode has not yet finished recording Spirit, its 14th studio album.
The group is working out of studios in Santa Barbara, California, where Gore lives, and New York, the home of frontman Dave Gahan.
Depeche Mode triumphed with a string of hits in the 1980s and early 1990s such as Just Can't Get Enough at first becoming synonymous with danceable synthpop but gradually adopting a darker sound.
"We helped to make electronic music acceptable," Gore says.
"When we started out it was a constant battle. People didn't take electronic music seriously. It was considered like a novelty that wasn't real music and that would go away very soon.
"Now it's just so prevalent. For good or for bad, we've helped to get it to this point," he says with a laugh.
Depeche Mode sees one of its legacies as bringing over listeners of other genres, including rock fans who would have rarely stepped into a dance club.