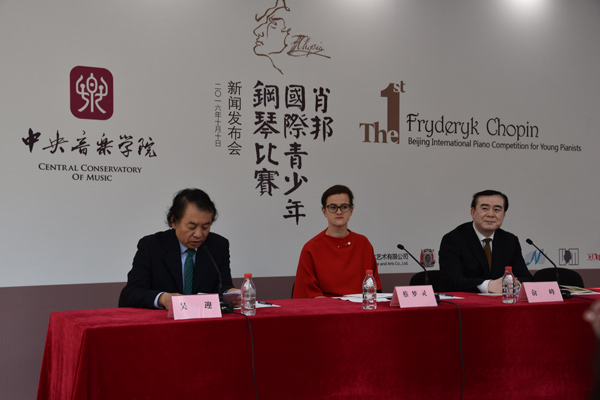 A group of professors and guests are invited to attend the competition press conference at the Central Conservatory of Music. [Photo by Zhang Xingjian/chinadaily.com.cn]
Organized by the Central Conservatory of Music, the country's top musical institute, the first Fryderyk Chopin Beijing International Piano Competition for Young Artists will be held between October 16 and 30, with more than 60 pianist from across the globe set to compete.
Government institutions in both China and Poland have praised the competition for promoting the creation of Chinese modern piano works and enhancing the recognition of Chinese piano art on the world stage. The competition has also been listed as part of the Sino-Poland Protocol of Cultural Cooperation, a document which was officially signed by Chinese President Xi Jinping when he visited Poland in June.
According to Wu Ying, professor of the Central Conservatory of Music, the competition strictly follows the procedures of international musical and artistic contests, by inviting top-class pianists and experts as judges. Organizers intend to seek excellent and talented pianists beyond countries and continents.
Wu is also acting as the artistic executive director for the competition. He said the competition would be held in Beijing every two years and the Central Conservatory of Music had won the honor to be the permanent place for holding the competitions.
It is worthwhile to noe that the newly-built musical hall will be used for the first time during the competition. The music hall takes advantage of state-of-art technology to adopt the seven-tier soundproofing system, to guarantee good acoustics. Also, the seats are designed to be more spacious compared to other theatres, while a central revolving stage meets the demands of performance, according to a worker.
Meanwhile, a wide variety of cultural activities will be arranged during the competition. Some judges will hold concerts or seminars to bring a wonderful music tour to the audiences. And the Embassy of the Republic of Poland in Beijing will offer a poster exhibition on the history of the International Chopin Piano Competition and piano master Fryderyk Chopin.
The International Chopin Piano Competition, often referred to as the Chopin Competition, is a piano competition held in Warsaw, Poland. It began in 1927 and has been held every five years since 1955. It is one of the few competitions devoted entirely to the works of a single composer, in this case, Frédéric Chopin.
The first competition was founded by the Polish pianist and pedagogue Jerzy Zurawlew. In 1957, the competition became one of the founding inclusions in the World Federation of International Music Competitions in Geneva.