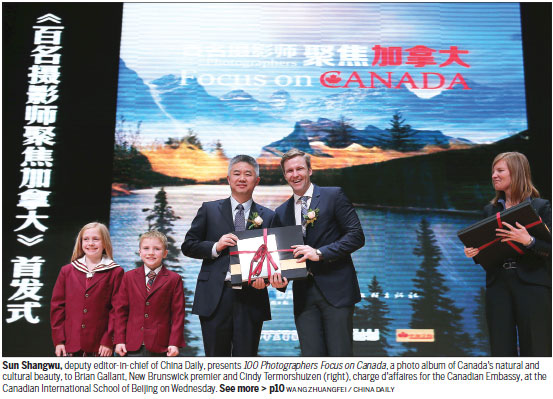 They say that beauty is in the eye of the beholder. It can be in their camera lens as well.
A new photo album called 100 Photographers Focus on Canada celebrating the nation's natural and cultural beauty made its debut at the Canadian International School of Beijing on Wednesday.
The book, compiled by China Daily, consists of about 300 photos from more than 140 Chinese and Canadian photographers. It displays Canada's charms from flaming maple leaves, dreamlike aurora borealis and rainbows over the Niagara Falls to the joyful interaction between humans and animals and the everyday lives of Canadians of all ages.
Sun Shangwu, deputy editor-in-chief of China Daily, said the timing of publishing the photo album had a special significance since China and Canada would be celebrating the 46th anniversary of the establishment of their diplomatic ties on Thursday.
"Focus on Canada is a record of memorable moments in Canada," Sun said at the launch event. "Moreover, it is a testimony of the friendship between our people. Through their lenses, and in the language of shape and color, the photographers are expressing the beauty of Canada to the world, and in particular to the people of China."
China Daily, AKD International Education Inc in Canada and Wink Impression (HK) Co., Ltd have been working hand-in-hand on Focus on Canada since June, which included sending Chinese photographers to visit Canada.
Cindy Termorshuizen, charge d'affaires of the Canadian Embassy, emphasized the importance of people-to-people exchanges, mentioning that Chinese Premier Li Keqiang and Canadian Prime Minister Justin Trudeau exchanged visits within just one month in September.
"I believe this commemorative album, created from sights of Canada seen through the lens of visiting photographers, is an important contribution to our efforts to tell the Chinese people the story of Canada and to encourage them to come and visit us," she said.
Whether it is through education, academic and cultural exchanges or through tourism, these exchanges help build cross-cultural understanding and deepen and grow the Canada-China relationship, she added.
Termorshuizen said that since China granted Canada approved destination status in 2010, the number of Chinese visitors to Canada has reached strong, double-digit growth every year. Upwards of 500,000 Chinese tourists visit Canada each year, and a similar number of Canadian tourists visit China.
In the first half of 2016, the number of Chinese tourists to Canada surged over 24 percent compared to the same period last year, and China currently ranks as the third-largest source of visitors to Canada, after the US and UK.
At present, more than 120,000 Chinese students are studying in Canada. Every week, there are 95 direct flights between China and Canada, and both governments are working to allow more direct flights between the two countries to make visiting easier.
The 100 Photographers Focus on Canada is the 12th volume in China Daily's "Focus" series, which includes an album on Russia.
Related:
Photo exhibition: 'Happy Chinese New Year'