Black-and-white is back as people seek 'classic' look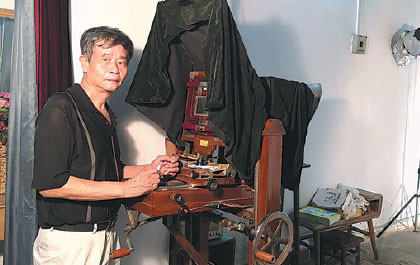 A photographer surnamed Ou has been working at Yanfang Photo Studio in Guangzhou since 1972. Li Wenfang/China Daily
"You do not have to always make her laugh, the natural expression of a child is the most beautiful," the photographer told a young mother surnamed Wang before he pressed the shutter.
Wang brought her 2-year-old daughter to have black-and-white photos taken in Yanfang Photo Studio in Guangzhou, Guangdong province, on Sept 22.
"I wanted to keep some black-and-white photos as souvenirs of my daughter's second birthday, as she has already had too many color and digital photos taken in the previous months," Wang said.
According to the photographer, surnamed Ou, Wang is just one of growing number of parents who have been bringing their children to Yanfang Photo Studio to have black-and-white photos taken in recent months.
Up to 40 or 50 people are now getting black-and-white photos taken in the studio during the weekend, compared with less than 10 several years ago.
"In addition to the parents who wanted to help their children have black-and-white photos, most of our customers are young people, including university and high-school students," Ou said.
"When a thing is rare, it becomes precious," Ou told China Daily. Ou said he has been working at the studio since he graduated from high school in 1972.
A young female office worker surnamed Liu said black-and-white photos are classic.
"Black-and-white photos are taken using traditional cameras. The smile in a black-and-white photo is unique and the result cannot be compared to ones in digital and color photos," she said.
Liu said she had black-and-white photos taken in the studio after she was attracted by the beautiful and classic wedding photos of her parents.
Huang Yaohui, manager of Yanfang Photo Studio, said the studio has room to grow, despite big challenges and fierce competition from professional studios, and increasing costs.
"In addition to the nostalgia aspect, people can spend less than 100 yuan ($15) to have groups of black-and-white photos taken, compared with thousands of yuan to have color and digital wedding photos taken in special professional studios," Huang said.
Huang promised to improve service to attract more customers.
Built in 1912, Yanfang has developed a good reputation at home and abroad, Huang said.
During the past century, photographers from Yanfang have taken pictures of revolutionary pioneer Dr Sun Yatsen, and late Chinese leaders Chairman Mao Zedong and Deng Xiaoping.
In addition to local residents, many customers have recently come from around the world to have their black-and-white photos taken in Yanfang, he added.
Huang Mengting contributed to this story
Contact the writer at liwenfang@chinadaily.com.cn