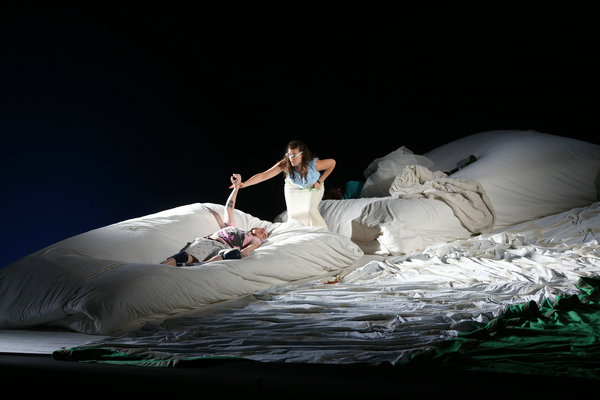 Incorporating a giant bed, gigantic pillows and green bedclothes in the setting, Benjamin Britten's opera A Midsummer Night's Dream is considered one of the sexiest adaptations of William Shakespeare's play.[Photo by Jiang Dong/China Daily]
The operatic version of one of the Bard's classics comes to China 25 years after becoming a hit in France, Chen Nan reports. When Canadian director Robert Carsen presents his production of Benjamin Britten's opera A Midsummer Night's Dream in Beijing this weekend, audiences will have a chance to watch the sexiest adaptation of William Shakespeare's play.
With a giant bed dominating the stage, gigantic pillows as great symbols of dreaming and green bedclothes as a metaphor for the forest, the production was a major hit when it premiered at the 1991 Festival d'Aix-en-Provence in France.
"This is the first time we take it to China, to Asia," says Carsen. "This is a big adventure."
During the past 25 years, Carsen has taken the opera to many places. And last year the well-traveled production returned to the place where it all began.
"You never know if the audiences will like it when you work on it. It was a wonderful evening in Provence (in 1991). It was the beginning of a very long life of the production," says Carsen. "We have the same excitement every time we do it. The show has to be as good as it can be."
Carsen, 62, was once an actor and plays two roles in the play, Francis Flute and Demetrius. "It's a play about young people, magic, sex, dangers and passion. It's an erotic comedy. That's quite unusual," he adds, calling the opera one of his favorite productions.
As a part of the ongoing 19th Beijing Music Festival, an annual classical music event held in the capital, the three-act opera is a tribute marking the 400th anniversary of William Shakespeare's death. It is coproduced with the Festival d'Aix-en-Provence, with which the BMF has signed a five-year contract.
The China Philharmonic Orchestra will perform under the baton of conductor Steuart Bedford. The cast includes Laura Claycomb as Tytania, Lawrence Zazzo as Oberon and members of the Trinity Boys Choir as fairies.
"Opera in China has become more and more significant. There are growing audiences," says Carsen. "I am always interested in the East, like India and Japan. Now I take this project to China."