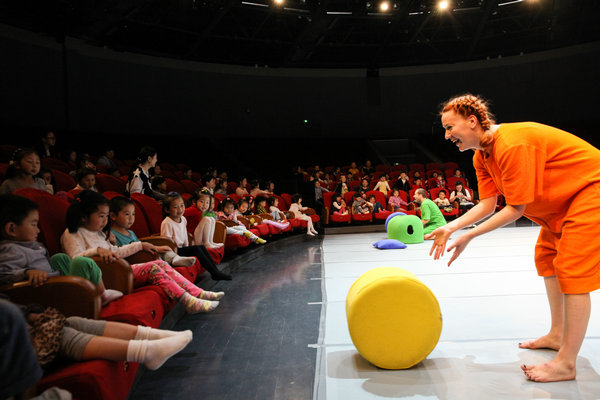 Foreign productions are introduced by the Shanghai Children's Art Theater to entertain the country's young audiences. The popular plays include Puzzle (above) created by Dansema Dance Theatre of Lithuania and The Tiger Who Came to Tea by Tiger's Tea Productions from the United Kingdom.[Photo provided to China Daily]
Experts weigh in on what needs to be done to boost children's theater in China. Zhang Kun reports in Shanghai.
Children's theater is gaining popularity in Shanghai as parents increasingly look to the stage as a source of meaningful entertainment for their kids.
As a result, the Shanghai Children's Art Theater has become a favored venue for such productions. Opened in 2013, 80 percent of the shows presented at this theater are from other countries, indicating the demand for foreign plays in the Chinese metropolis, says the theater's general manager Christine Liang.
A reason for this is the poor performance of the country's own children's theater groups, which are often criticized for the lack of diversity and quality in productions.
Zhu Guang, a veteran journalist with the Shanghai-based Xinmin Evening News, says that even until recently, the local scene comprised mostly adaptations of fairy tales, with plays tending to rely on preachy dialogues.
Children get bored with such performances easily. While there are some institutions, such as the Children's Palace, that are aware of the needs and cognitive levels of young audiences and have been creating original shows, she says many producers of children's theater aren't professionally trained.
A facility for the development of children's music, theater and artistic hobbies, even the Children's Palace, however, produces stage projects that sometimes lack a convincing narrative.
The inability of the local children's theater industry to meet the demands for quality has prompted both parents and performers to look for alternatives in foreign productions. Staff members of the Shanghai Children's Art Theater, for example, make up to seven trips abroad each year to bring shows to Shanghai. The theater's itinerary this year has 39 programs from overseas.
Its new theater, which is located on the western banks of the Huangpu River, used to be an industrial pavilion during the 2010 World Expo in Shanghai.
Although it is a 15-minute walk from the nearest subway station and has only a few amenities nearby, the theater has managed to achieve an annual average of 77 percent seat occupancy for its shows. Popular performances, such as the concerts by Italy's Little Choir of Antoniano, are sold out immediately as seen in the recent past.