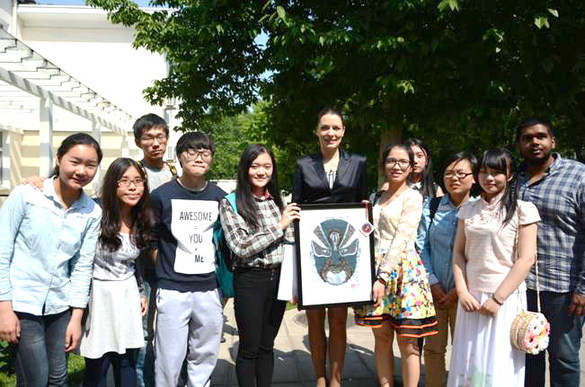 Students from Beijing University of Chinese Medicine present a Peking Opera facial mask to the Hungarian ambassador to China Andrea Cecilia Szilas as a gift to the Hungarian Embassy. Photo provided by Beijing University of Chinese Medicine Student Union
The Hungarian Embassy in Beijing invited students from Peking University and Beijing University of Chinese Medicine to its annual Open Day on Friday.
Andrea Cecilia Szilas, the Hungarian ambassador to China said that small as Hungary is, its language is the most widely spoken non-Indo-European language in Europe.
She hoped students could get to know the real Hungary through attending the event.
Counselor Tamas Veres and Szonja Andreas also spoke of the close links between Hungary and the European Union and Hungarian culture respectively.
Students asked a series of questions covering issues such as bilateral relations and Hungary's attitude toward the Asian Infrastructure Investment Bank (AIIB) as well as cultural communications, overseas study and tourism.
Veres said that last year marked the 65th anniversary of Sino-Hungarian relations and both sides would conduct further cooperation in the fields of infrastructure, agriculture and finance. The government showed great interest in joining the AIIB and believed it could be a great opportunity for local enterprises to expand their share of the Asian market.