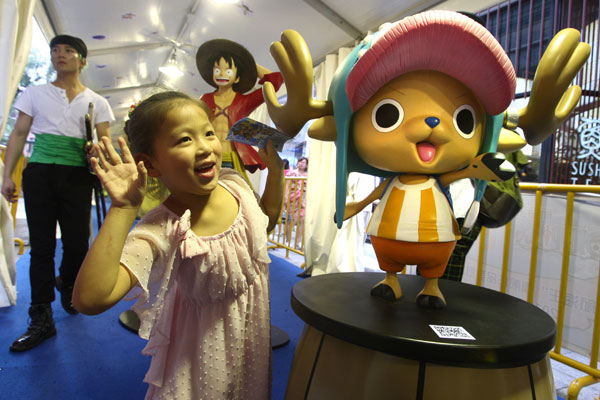 The Japanese animation series One Piece has a large fan base in China, particularly among youngsters. [Photo/China Daily]
Popular shows
Japanese works draw a lot of attention because they are among the best-liked category in China. A ban in 2004 on importing foreign animation has led to a significant reduction in the number of Japanese cartoons on Chinese TV, but online platforms today have managed to secure a large fan base, especially among younger Chinese.
"The post-1980 Chinese generation was practically the first to watch a large number of animation shows. And most of what they watched were Japanese productions," says Chen Wen, co-founder of Shanghai-based animation channel Toonmax, one of the country's five major cartoon broadcasters.
"Growing up watching such well-made works as Detective Conan, today many of them still look down upon the quality of domestic productions."
Tencent News quoted statistics from consultancy HorizonKey as showing more than 41 percent of around 3,000 young Chinese surveyed are still animation fans. The news portal also shows that 60 percent of Chinese youngsters' favorite animations are made in Japan.
Unlike many Chinese animation shows of today that target mainly children under 5, says Chen, Japanese animation is made for people of all ages. As a result, some of it tends to portray a more complex picture of life, such as a teacher-student affair. But others might interpret it to be a bit "hardcore", she says.