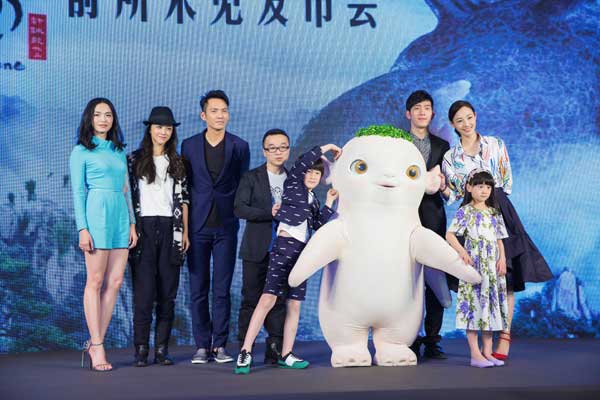 Cast members attend a press conference. Photo provided to China Daily
"When cooking with a white carrot, I thought what would happen if the vegetable turned into a monster?" Hui said of his inspiration for the movie.
While traditionally, monsters have been portrayed as cruel in Chinese movies, Hu Ba was designed to be a kind-hearted, "king of monsters" and was created by a special-effects team from the US.
The movie, which will be released on July 16, has a star cast that includes mainland actresses Tang Wei and Yao Chen, and Hong Kong actor Wallace Chung.
Chung, a heartthrob of millions, described his "monster hunter" role as "the most evil character" in the movie. "It cooks them (monsters) into delicious dishes," he said at the same press conference.
"So the movie can be simply depicted as a battle that breaks out due to a gluttonous appetite," he said jokingly.
Tang, a fellow "monster hunter" in the feature-length production, called it a happy movie that made her laugh all the while during shooting.
Related:
China Film Directors Guild releases finalists for annual award