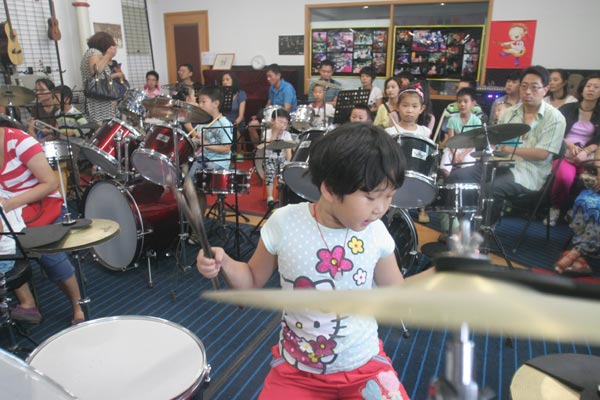 Drum class at Deshengmen Youth Palace in Xicheng District, a government-supported community school in Beijing. Photo provided to China Daily
Tony Webb from the United Kingdom established the music education center Toning Drum Percussion in Beijing in 2003.
Starting by introducing African djembe drums played with bare hands as a form of interactive team building, Webb's company has been transformed into a training center offering hand percussion training to adults who want to popularize music among children.
Hand drumming, according to Webb, offers the player the chance to release pressure, make new friends-and most importantly, make music-all at the same time.
"Everyone plays together like one big orchestra," the 63-year-old says. "You don't have to have any sense of rhythm. It just takes a little practice and confidence, and it will be fun."
When he started the company more than 10 years ago, Webb says the Chinese music education market was limited.
"The Majority of schools, even today, have little or no arts program. But this is changing slowly," says Webb. "The Chinese government has announced that all middle and high schools should have arts program, including music. That's a good sign for improving the music training environment in the country."
Unlike early childhood music education in the West, which enables kids to enjoy music and widen their vision, many Chinese parents ask their children to learn music for certain purposes, either hoping they will be professional musicians in the future or obtaining extra points for applying to schools.
But with more and more Western music education organizations introducing their methods over the past few years, Chinese parents gradually to change their views on music education.
Hao Dakun, a 39-year-old father, has taken her 9-year-old daughter Hao Tianyue to jazz drum courses for three years.
"When I learned music, my parents wanted me to take it as a lifelong career," says Hao, who started learning trumpet in childhood and later taught himself guitar.
"The practice was very boring. But now some parents just want their children to have a fun experience with music," he says.
Today he is a guitar and jazz drum teacher at the Deshengmen Youth Palace in Xicheng district, a government-supported community school in Beijing.