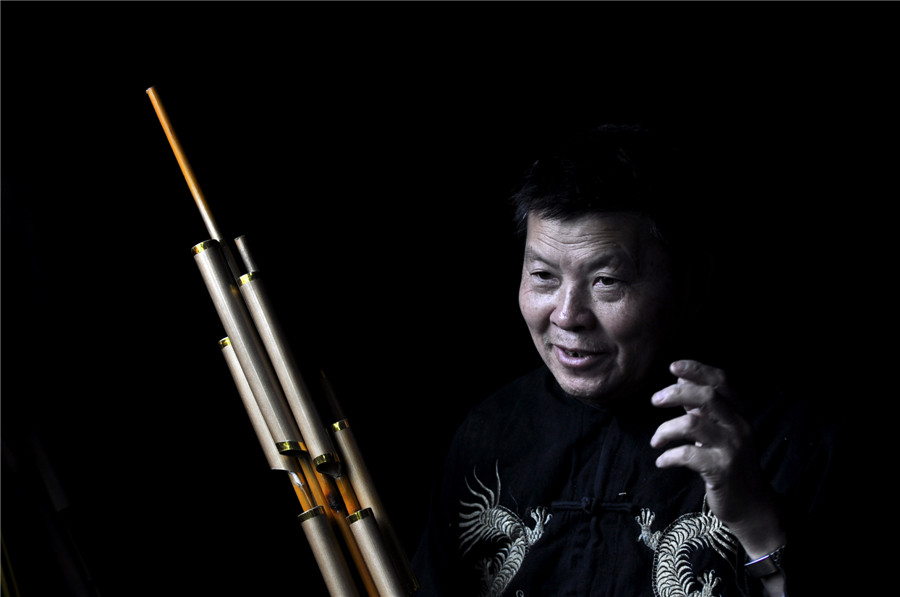 Photo shows Mo Yanxue, an inheritor of the craftsmanship of making Lusheng, in Leishan county, Southwest China's Guizhou provinc, Jan 4, 2014. [Photo by Ning Jian/asianewsphoto.com]
The 63-year-old Miao craftsman Mo Yanxue is an inheritor of traditional artistry of making reed-pipe wind instrument "Lusheng" in Leishan county, Southwest China's Guizhou province.
Mo's hometown, Paiqia village in Leishan, has more than 400 years history of making Lusheng.
Mo was born in a family that's known for Lusheng production, a craftsmanship that has been passed down for five generations.
He started making the instrument at the age of 16 and has carried on for 47 years.
The Lusheng made by Mo is of excellent quality, mellow and full in tone, exquisite workmanship, and elegant in appearance.
Mo thinks that Lusheng is more than a musical instrument and the tunes performed by it are a way of communication that Miao people often play the instrument to express their feelings.
As an inheritor of the national-level intangible heritage, Mo was awarded the tile of "Top 10 folk master craftsman in Guizhou" in 2006.