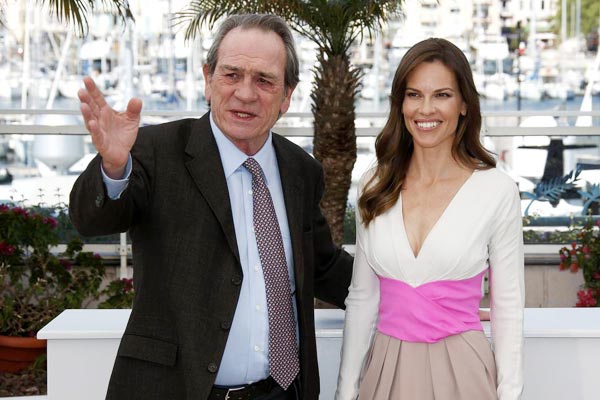 Director and actor Tommy Lee Jones (L) and cast member Hilary Swank pose during a photocall for the film "The Homesman" in competition at the 67th Cannes Film Festival in Cannes May 18, 2014. [Photo/Agencies]
Hollywood star Tommy Lee Jones and Italian newcomer Alice Rohrwacher both presented their films in competition at the 67th Cannes Film Festival, on Sunday.
Jones' film, The Homesman, inspired by the novel of the same name by Glendon Swarthout, is the fifth feature film directed by Jones, a veteran Hollywood actor who has been active in film since the 1970s.
In the movie, Mary Bee Cuddy,31, lives a solitary existence in a mid-western frontier town of the United States in the 19th century.
She is given the task of taking three mad women to the east of the country. On the way from Nebraska to Iowa, the women find refuge and Cuddy saves the life of a man, Briggs, an outlaw.
Briggs agrees to help Cuddy in her mission through snowstorms and perilous encounters with settlers, Indians and the harshness of the frontier territory.
Actress Hilary Swank plays Cuddy, and Jones plays Briggs.
"Some of the characters I've played are deep, solid people. That's certainly true of Mary Bee Cuddy," Swank says. "Today, the idea of virtue is far less understood. It's important to portray such solid characters."