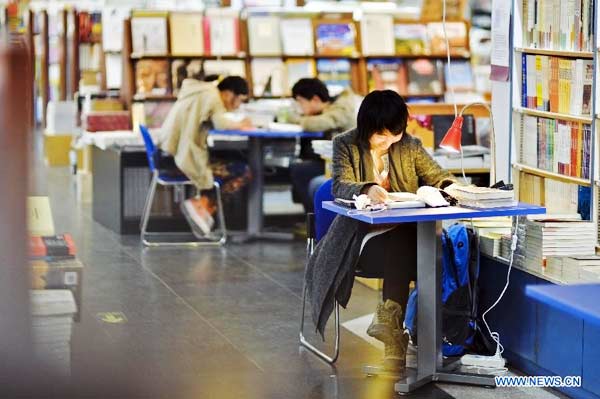 People read books at the Sanlian Taofen Bookstore in Beijing, capital of China, at wee hours of April 9, 2014. The Sanlian Taofen Bookstore tried to open 24 hours a day on Tuesday. The trial operation will last for 10 days before the official business. [Photo/Xinhua]
Beijing-based bookworms can now become night owls with the opening of the city's first 24-hour book store.
Sanlian Taofen Bookstore (STB) in Dongcheng district on Tuesday expanded its opening hours, to the joy of people like 31-year-old Li Ying.
Li spends most of her evenings and weekends engrossed in all kinds of page-turners on the high street, but is forever worried about closing time. "Every time I get kicked out, I feel frustrated," she said. "Now, I finally have a place to read to my heart's content."
STB, opened by SDX Joint Publishing Company (SJPC) in 1996, displays 80,000 titles across 1,500 square meters, and is one of Beijing's cultural landmarks.
Fan Xi'an, president of SJPC, borrowed the 24-hour concept from Taiwanese retail chain Eslite Bookstore. "I was thrilled by the large number of readers found at night in Eslite Bookstore when I visited Taiwan in 2010," he said.
With Beijing recognized as China's cultural center, it began to pain Fan that the city lacked somewhere readers could indulge their passion for the printed word around the clock.
He proposed 24-hour service to the SJPC board in 2011, but the plan was scuppered by a lack of funds at that time.
However, the extra cost has now been covered by sponsorship from the central government and Beijing Municipality -- part of authorities' broader scheme to subsidize a total of 56 bookstores around China.
Related: First 24-hr Beijing bookstore opens