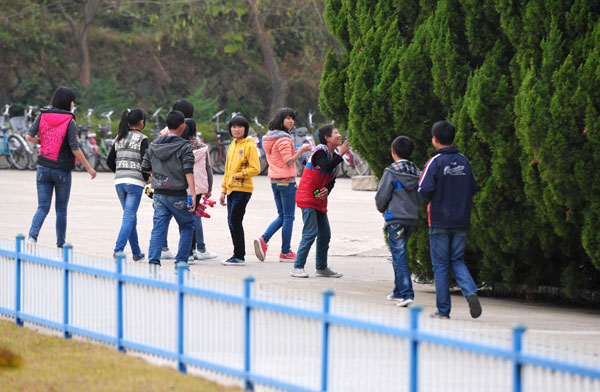 Juxi Middle School's recent notice to prohibit teenage romance won support and prompted debate. [Photo by Xie Mingfei / for China Daily]
If you are a Chinese high school student, don't worry when a fellow student of the opposite sex asks you to stay at arm's length. It doesn't mean they hate you - he or she may only want you to avoid punishment.
A number of secondary schools have recently issued strict and strange rules aimed at curbing young love.
In the latest notice, Juxi Middle School, in Anxi county, Quanzhou, Fujian province, prohibited boys and girls from passing notes, being together in secluded areas and giving each other gifts.
The notice also banned what it considers close interaction, such as holding hands and hugging.
"Such rules are intended to maintain a safe and orderly campus atmosphere and maintain a pure relationship between boys and girls," the notice read.
Any student found breaking the rules will face severe punishments and their parents will be informed.
Joining the Quanzhou school in curtailing teenage romance is Xiang'an No 1 Middle School in Xiamen, which released a draft regulation. It reads: "If students of the opposite sex hang out together after school, they will be considered dating each other, which should be discouraged."
The schools' instructions have gained some support from parents.
Chen Yunsheng, a businessman in Quanzhou and a father of a 13-year-old girl, says he feels uneasy explaining intimacy to his daughter and worries that she might be tempted by the "forbidden fruit", since she is on the cusp of puberty.
"The schools' move to ban young love addresses my concern and I hope other schools will follow suit," Chen says.
Wang Baohua, a mother of a 14-year-old boy in Zhangzhou, Fujian province, says she agrees with the regulations as it will ensure students focus on their studies. She adds that puppy love may affect their academic performance.
Creating a stir on the Internet, the moves were also condemned and questioned by many students and scholars.
Chen Jianing, a student from Nanjing Foreign Languages School in Nanjing, Jiangsu province, says the belief that young love would distract students from their studies is "nonsense".