Shanghai Metro offers passengers books to borrow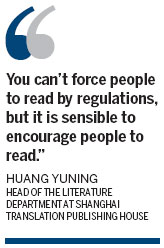 Free service encourages city residents to read on the subway
Shanghai's Metro Line 2 is turning a new page with a library taking literally an online approach.
Passengers will be able to select a book at one station, and return it to any of the other stations with customized bookshelves.
Readers do not have to pay a deposit or any rent for the books and magazines they take. Instead, they are encouraged to donate 1 yuan (16 US cents) to charity at the bookshelf.
"Now you can read a real book, rather than staring at the cellphone through the metro ride," said Zou Shuxian, a spokeswoman for the Aizhi bookstore, which initiated the project jointly with Hujiang.com and Shanghai Metro Line 2.
"This will encourage more people to read on the Metro and improve the atmosphere of the whole city," said Chen Kuang, a spokesman with Shanghai No 2 Metro Co Ltd.
The Chinese Academy of Press and Publication released a survey recently that said the general public between the ages of 18 to 70 read 4.39 books in 2012, much fewer than in Western countries.
The program announced its official kickoff on Aug 18, after a trial operation over a period of months.
It has been a resounding success with office workers. Waiting lines have developed during rush hour.
"Most people returned the books after reading, and many left a coin for our charity initiative," said a staff member for Aizhi at the Nanjing Road West Station.
"Even if some books are not returned, we believe the overall benefit is worthwhile," another staff member surnamed Li said.
All the books have green tape on the cover to inform people about the program. "Also to remind people it is borrowed and should be returned," Li said.
Hujiang.com, an online education provider, and Aizhi, a bookstore chain, joined hands to launch the project last year. It called on people to donate their used books to the 20 Aizhi bookstores at the metro stations.
The program allows Hujiang to publicize its educational program.
The public offered more than 100,000 books in eight months. Many were given to schools in less well-off areas. The rest, and magazines, were used for the program.
The trial operation began near office buildings in Zhangjiang, a high-tech park in Shanghai, and then expanded to the Metro.
"We also have a few shops along Metro Lines 3 and 4, and we hope to expand the service," she said.
"It is a great idea to have books used rather than leaving them to gather dust," said Yue Tingting, a PR official with Hujiang.
"You can't force people to read by regulations, but it is sensible to encourage people to read," said Huang Yuning, head of the literature department at Shanghai Translation Publishing House.
The digital age has seen book sales decline, but this shows there may be a twist in the tale, said Feng Tao, an editor and colleague of Huang.
In order to encourage more people to read, the General Administration of Press and Publication of China plans to issue a guideline promoting reading.