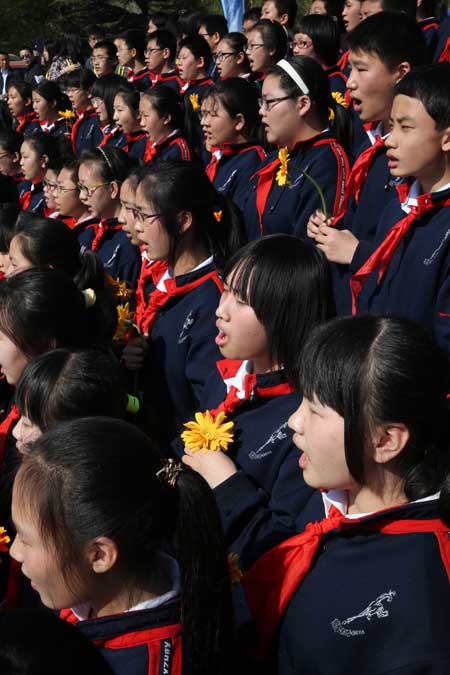 The middle school choir from the Beijing Xubeihong Academy sang at the beginning of the ceremony. [Photo by Jiang Dong/China Daily]
A solemn ceremony to mark the Pure Brightness Festival, also known as Qingming, was held in the square of the China Millennium Monument Friday morning.
Participants, including residents and near neighbors, primary and middle school students and army solders, recited classic Chinese texts such as "Tao Te Ching" (Daodejing) and the "Analects of Confucius" (Lunyu) while observing a flame that burned in the square.
People passed on the flame and then saluted the late scholars including Xu Beihong the great painter,, Zhan Tianyou the distinguished railroad engineer and Li Siguang the founder of China's geo-mechanics.
The Qingming festival, together with its relevant customs, is one of China's most long-lived traditions and was listed as a state-level intangible cultural heritage in 2006. People hold grand ceremonies of worship to remember their ancestors and those who made contributions to the country's development.