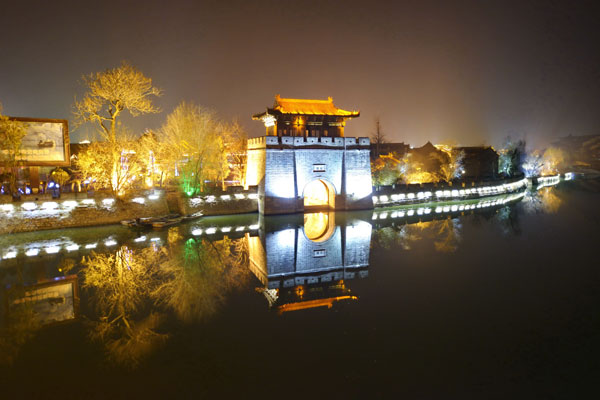 The Zaozhuang section of the Grand Canal has remained unchanged since the Ming Dynasty.
The Beijing-Hangzhou Grand Canal's flow seems to follow the direction of fortune - especially since its ancient glory is being reconstructed after being destroyed in World War II and 85 sites along the canal have jointly applied for UNESCO World Heritage status.
The artificial waterway that linked northern and southern China served as a lifeline for dynasties for 14 centuries. It carried materials and ideas between the political capitals of the north and economic heartland of the south.
The canal produced 70 percent of the country's economic output during the Ming (1368-1644) and Qing (1644-1911) dynasties, says Chen Wei, Party chief of Shandong's Zaozhuang city along the canal.
Over time, the canal's value to the 18 cities that border it has shifted from logistics to culture and tourism.
The channel can be thought of as a necklace, sparkling with the 85 sites applying for World Heritage status.
Zaozhuang, the first city the Grand Canal meets when it enters Shandong province from the south, has the only stretch unchanged since the Ming Dynasty.
"Most docks and mooring points along the canal have been changed or renovated by modern development, but Zaozhuang has a 3-kilometer passage along which the docks and mooring points are original," Chen says.
The width is also unchanged, he says.
On paper, the Grand Canal runs 1,747 kilometers - making it nine times longer than the Suez Canal. Parts date back to the 5th century BC.
The original canal system took shape during the Sui Dynasty (AD 581-618), the capital of which was Luoyang - now the second largest city in Henan province by GDP.
Sui emperor Yang Guang needed to transport grain from the fertile Yangtze region northward to support his court and armies. So the emperor forced a huge number of workers to build the canal to connect Luoyang with Beijing and Hangzhou, capital of today's Zhejiang province.
The Grand Canal didn't pass through Zaozhuang until the Ming Dynasty, when an east-west waterway called the Jia Canal was devised to circumnavigate the Yellow River's floods, which frequently paralyzed the Grand Canal.