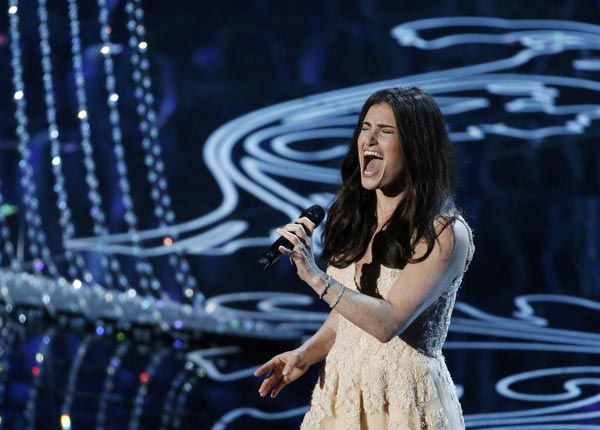 Idina Menzel performs nominated original song "Let it Go" by Robert Lopez and Kristen Anderson-Lopez, for the film "Frozen" at the 86th Academy Awards in Hollywood, California March 2, 2014. [Photo/Agencies]
Disney's hit film "Frozen" has become the top-grossing animated film in box office history, the studio said on Sunday as the musical topped $1 billion in global sales.
The film has sold $398.4 million worth of tickets at domestic (US and Canadian) theaters since opening on November 27 on the eve of the Thanksgiving Holiday weekend. Foreign box offices have added another $674 million, for a global total of $1.072 billion, Disney said.
"Frozen," inspired by "The Snow Queen" fairytale, is the story of a Scandinavian princess who must reconnect with her sister, the Queen, who has the power of freezing anything into ice with her hands and accidentally sets off a long winter that is destroying their kingdom.
The previous animated-film box office champion was 2010's "Toy Story 3," which racked up $1.063 billion in sales, according to Boxofficemojo.com. Both films were distributed by Walt Disney Pictures.
"Frozen," which stayed in the top 10 films on domestic box office charts for more than three months, also has now become the 10th-largest grossing film in cinema history.