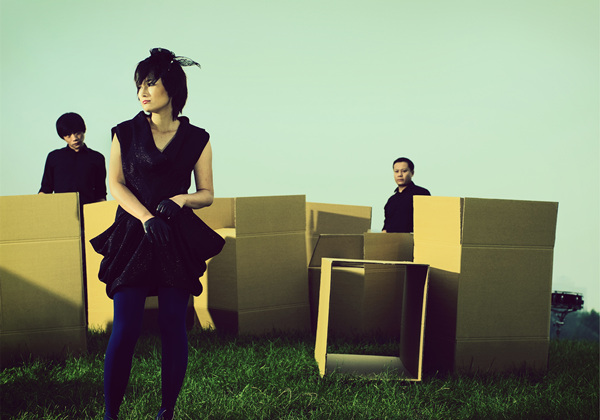 The Beijing based rock band Retros will be one of the biggest draws in this year's China Drifting Festival. Photo provided to China Daily
When Michael Vonplon from Switzerland came to China in the mid-1990s, he learned Mandarin and made lots of friends, becoming one of the first people to organize raves in China, such as the party on the Great Wall in 1998.
Almost 20 years on, he still puts on parties, but on a larger scale, such as the China Drifting Festival.
Under the label Miro China, which Vonplon founded in 2006, China Drifting Festival is a vehicle for the introduction of Chinese avant-garde music and visual arts in Europe. It has been held annually in Zurich, Switzerland, to expose Europe to the vibrant Chinese music scene.
In 2014, the festival will travel outside of Switzerland for the first time, making stops in Beijing, Shanghai and Berlin, Germany. It will be headlined by Beijing-based rock bands Re-tros (short for Rebuilding the Rights of Statues) and Pet Conspiracy, Shanghai-based Duck Fight Goose and Swiss band One Sentence. Supervisor.
"China Drifting evolved from my various previous projects. I wanted to create it as a brand for cultural exchange with China and establish a festival with this content - to have both sides working together on a creative and playful event and to shape and design the content on the same level," Vonplon says. "But it should also be an unpretentious party for people from different regions and with different backgrounds."
For Vonplon, there are few people in Europe who understand China and its underground music scene. "There are still a lot of prejudices against China, and I would like to surprise people with the country and its rebellious side. Not with the China you know from the media, the economic growth or traditional cliches, but with the progressive, open-minded and maybe sometimes also radical form of China," he says.
According to Tobias Walti from the China Drifting Festival, after years of efforts, the most popular Swiss act in China is Bubble Beatz who played at Midi Festival Beijing, Shanghai and Shenzhen in 2013.
As for Chinese artists touring Europe, he says that folk musicians like Hanggai and rock acts like Re-tros and Pet Conspiracy are familiar to many music lovers as they have been playing in Switzerland for some time.