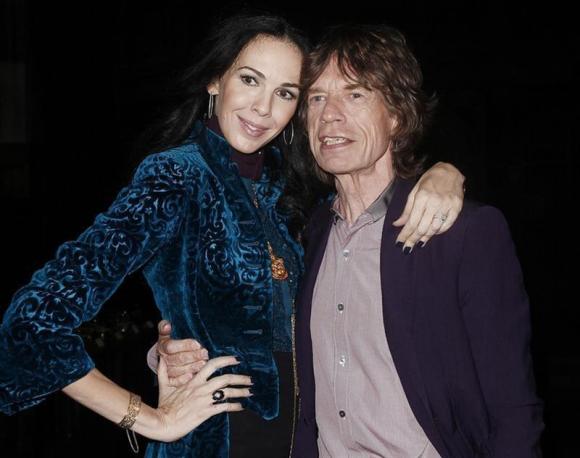 Musician Mick Jagger and designer L'Wren Scott pose following her Fall/Winter 2012 collection during New YorkFashionWeek, February 16, 2012. [Photo/Agencies]
'GREAT DREAMS'
Scott became one of New York's most famous designers over the last decade and was best known for her slim-fitting, dresses in beautiful fabrics and fine details.
Pop singer Madonna in a statement described Scott's death as "horrible and tragic." Supermodel Naomi Campbell, who knew Scott for many years, said she was the "epitome of elegance and femininity."
Scott and Jagger were often seen at celebrity events, with the 6-foot, 3-inch (1.91-metre) tall former model towering over her rock-star boyfriend.
A publicist for Jagger denied a New York Post story about a split between the two, saying it was "100 percent untrue."
Banana Republic, which had collaborated with Scott on a small holiday collection, said her death was terrible news.
"We are stunned and saddened to learn of the loss of L'Wren Scott. Our hearts and prayers go out to her friends and family," it said.
Scott, born Luann Bambrough, was raised in Roy, Utah with two older siblings by adoptive parents. Local residents were proud of her success and remembered her as very personable.
"She was a sweet young lady who had great dreams and lived to see those dreams fulfilled until now, I guess," said Richard Jensen, an 80-year-old retired electrical contractor who lived across the street from her family in Utah.
"It is quite shocking really. We felt she was so successful and had a great career," he added in a telephone interview.
Jensen watched Scott and her brother and sister grow up. Although she left Utah after her high school graduation, he said she often returned to visit her mother, who died about four years ago.
Scott started her career as a model in Paris before becoming a stylist and designer.
Her love of fashion began when she made her own clothes as a teenager, according to her website. After moving to Los Angeles, she worked as a stylist and designed privately before creating her own collection.