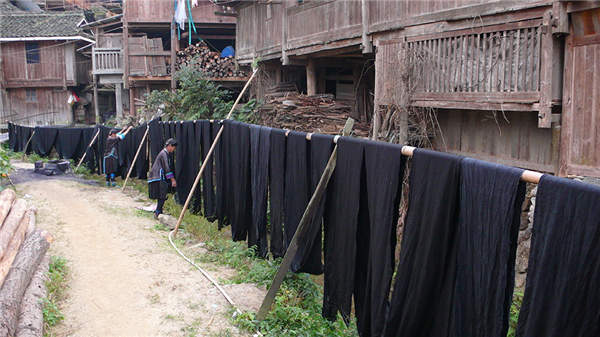 Villagers hang traditional batik clothing to dry in Tianbiantun, Yaogao. Photos by Jiang Jianxiong / for China Daily
Many traditional customs in China are disappearing without traces. That has prompted one photographer couple to spend more than a decade recording the life in a remote Miao village, in Guangxi Zhuang autonomous region. They share their experiences with Yu Fei of China Features.
The 82-year-old hunchbacked shaman Liang Yongyu takes out his green gown, black headband and a sword from the bottom of a chest with trembling hands and puts them on with help from his wife.
He is dressing up for photographer Jiang Jianxiong and his wife.
The couple has spent more than a decade photographing and recording the village in Yaogao, a remote area dominated by the Miao ethnic group in the Guangxi Zhuang autonomous region, thoroughly and systematically.
But they regret not being able to photograph the drum-worshipping ceremony, once conducted by Liang. The last such ritual was done about 30 years ago.
The Miao people once held the ceremony to ward off diseases.
Every time the ceremony was held, the shaman would lead all the men to the mountains to cut down a bulky maple trunk to make the "drum". The men, divided into two groups, chopped the wood on opposite sides. Everyone involved avoided being the one to chop through the wood, as bad luck would befall him.
After the drum was completed, the villagers would drag it back to the village to worship for four years.