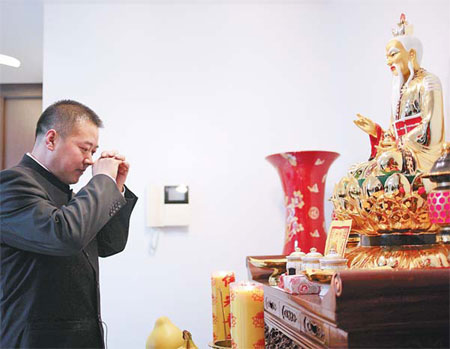 Qi Yingjie, a Feng Shui master, prays for good fortune at his Beijing office. Wang Jing / China Daily
NANNING - Feng Shui, the traditional Chinese study of geomantic omens usually for buildings or cemeteries, is producing exorbitant profits for fake fortune-tellers during the lunar new year celebrations.
In Nanning, capital of south China's Guangxi Zhuang Autonomous Region, fortune-tellers are trying to tempt customers into their Feng Shui shops, which sell hundreds of charm bracelets, jade necklaces, Buddha statues and mascots of Qilin, or Chinese unicorns.
They claim that the lucky charms, which can cost more than 100,000 yuan (US$16,500), have been blessed by eminent monks and "will bring good luck" during the year of the horse, which comes seventh in the 12-animal rotation used by the Chinese to represent the year.
"Experts" in the Feng Shui shops also provide fortune-telling, saying that they can help customers pursue good fortune and avoid bad luck -- at a cost.
Zhang Yu, who lives in Nanning, went to a "free" fortune-telling session in a shop and was told she was going to have a bumpy 2014. Only the blessed jade stones in the shop could help.
"But the cheapest jade stone cost a staggering 1,980 yuan, which is ridiculous," Zhang sneered.
Feng Shui, literally meaning "wind and water", has been widely practiced in China for thousands of years, but it has been denigrated as superstition rather than recognized as a cultural phenomenon.
Feng Shui practitioners were usually consulted before the construction or renovation of a building.
Though the government has never banned the practice officially, Feng Shui is defined in Chinese dictionaries as "superstitious beliefs in ancient China".