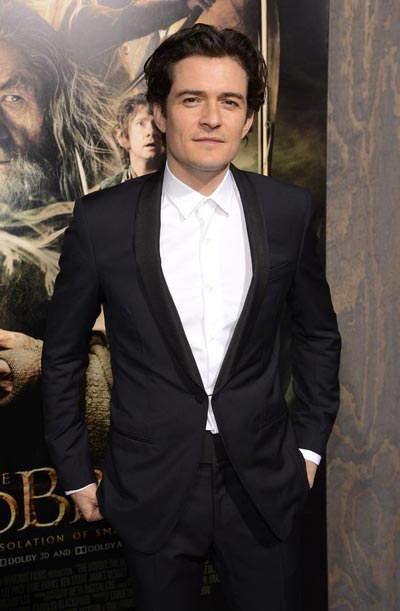 Cast member Orlando Bloom attends the premiere of the film "The Hobbit: The Desolation of Smaug" in Los Angeles December 2, 2013.[Photo/Agencies]
LOS ANGELES -- Warner's "The Hobbit: The Desolation of Smaug" tops the weekend north American box office for three consecutive weekends.
"Hobbit 2", as expected, placed the top for the third weekend in a row with 29.9 million US dollars and was down just 5 percent from last weekend, pushing its estimated domestic total to 190.3 million dollars.
The sequel has been the third three-peat winner of the year. Both "Fast And Furious 6" and "Gravity" pulled off a trio of wins earlier this year.
Following "Hobbit 2", Disney's "Frozen" ranked second with an estimated 28.9 million dollars in the weekend, adding 47 percent over last weekend's performance and became the second best showing of all time for a film in its sixth weekend after "Avatar" (34.9 million dollars), besting "Titanic" (25.2 million dollars).
This unstoppable 3D animation has now earned 248.4 million dollars to date in North America, which currently ranks the film as the seventh highest grossing release of 2013.
Meanwhile, "Frozen" collected 50.5 million dollars this weekend overseas, reaching 243.5 million dollars outside of North America. The animated film is on its way of hitting 500 million dollars globally with a worldwide total of 491.9 million dollars.
"Frozen" has become Disney's most successful family film after "The Lion King". It continues to be helped out by a combination of strong word of mouth and the overall lack of competition for family audiences this holiday season, according to analysts.
Two more holdovers found themselves in a close race for third place this weekend. Paramount's "Anchorman 2: The Legend Continues " took in 20.2 million dollars in its second weekend for a domestic total of 83.7 million dollars, edging out "American Hustle" in close battle. "American Hustle" earned 19.6 million dollars this weekend and brought in estimated 60 million dollars domestically for Sony.
Thanks to a strong Christmas this week, revenue of the North American box office will match 2012's record 10.8 billion dollars sometime on Sunday, and surpass that in the last two days of the year.
Rounding out the 10 most popular films in North America this weekend, as estimated by studios, were "The Wolf of Wall Street" (18.5 million dollars), "Saving Mr. Banks" (14 million), "The Secret Life of Walter Mitty" (13 million), "The Hunger Games: Catching Fire" (10.2 million), "47 Ronin" (9.9 million), and " Tyler Perry's A Madea Christmas" (7.4 million).