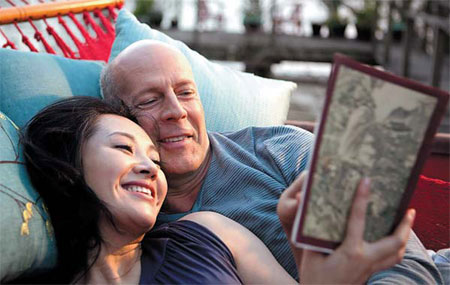 US film star Bruce Willis (right) reads a book with Chinese actress Xu Qing in a scene from the movie Looper. Hollywood has paid increasing attention to the Chinese market, which is expected to be the world's biggest box office in less than 10 years. Provided to China Daily
Hollywood has become hyper-aware of the potential for profits in China, which became the world's second-largest box office in 2012.
Predictions that the country will become the No 1 movie market worldwide in 2020 - combined with the success of the China-geared blockbuster Pacific Rim, which reaped $111 million in the country - have fueled Hollywood's desire to hit upon the right formula.
Attempts to cater to the Chinese market have so far produced varying results, including an occasional backlash against films that seemed to pander to the audience.
Only 34 international films are permitted in the Chinese market each year, but studios may get a pass on that quota if a movie is produced with at least one-third Chinese funding, is filmed in part in China and features a cast that is at least one-third ethnic Chinese.
Hollywood-produced films with Chinese characters or scenes are more likely to be included in the annual quota, while films critical of the country can face difficulties, not only with regulators but with audiences wary of being portrayed in a negative light by Western studios.
Movies such as Looper, Salmon Fishing in Yemen and Iron Man 3 have all deliberately included scenes tailored to a Chinese market. Pacific Rim featured an epic battle scene shot in Hong Kong.
To avoid offending Chinese viewers, World War Z was modified to exclude a scene in which a zombie outbreak was said to have originated in China. Red Dawn, originally about an invading China, was rewritten to substitute the Democratic People's Republic of Korea.