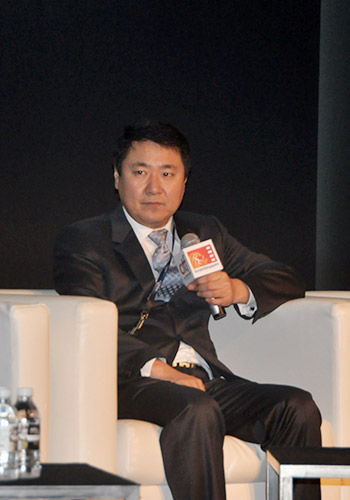 Yu Dong, CEO and founder of China's Bona Film Group, delivers a keynote speech on the first day of the 14th Asia TV Forum in Singapore, Dec 4, 2013. [Photo/People's Daily Online]
China is on the way to replacing the United States as the largest film market in the world. With the rise of a new generation of Chinese directors who present local stories through new interpretations, a leading Chinese film distributor predicted on Wednesday that a 'golden decade' for the Chinese film industry is on the horizon.
In a keynote speech delivered on the first day of the 14th Asia TV Forum in Singapore, Yu Dong, CEO and founder of China's Bona Film Group, set 2018 as the target for China's becoming the world's largest film market.
"The fact is that China's box office sales this year will hit 20 billion yuan (about 3.3 billion US dollars), and retain their position as the world's second largest," said Yu. "In 2018, China will replace the United States and become the largest with yearly sales of 60 billion yuan."
In a follow-up interview given to People's Daily Online, Yu elaborated on his observation that the Chinese film market boom is powered by burgeoning film attendances in small Chinese cities, and breakthroughs made by the rising new generation of Chinese directors.
"Modern cinema is spreading into more small cities in the process of China's urbanization. Currently, the number of screens in China is nearly 20,000 and that number is soaring at a rate of about 5,000 new screens each year", said Yu. "Going to cinema with the family will become a standard leisure pursuit for people living in small cities."
Films telling local stories are also bringing more Chinese people into the cinema. "Look at the blockbusters leading China's box office charts this year – you'll find local productions by young Chinese directors. Their revenues are overwhelming, and that is supported by strong word-of-mouth buzz. A 'golden era' for Chinese films is within reach," Yu summarized.
Led by Journey to the West: Conquering the Demons, Chinese films hold six of the top 10 slots on the chart of box office grosses in China this year.
"The appeal of Hollywood blockbusters weakens when they encounter Chinese audiences in small cities, because foreign stories presented by foreign faces do not have the same cultural resonance," Yu explained. "We cannot compete with Hollywood in budget but we can compete through localizing our stories. We're glad to see a young generation of Chinese directors finding new ways to interpret Chinese stories about ordinary people."
However, the weakness of the Chinese film industry is as obvious as its strength. Chinese production quality has to play hard in the catch-up with Hollywood, "because audiences are not blind to poor quality effects," Yu concluded.