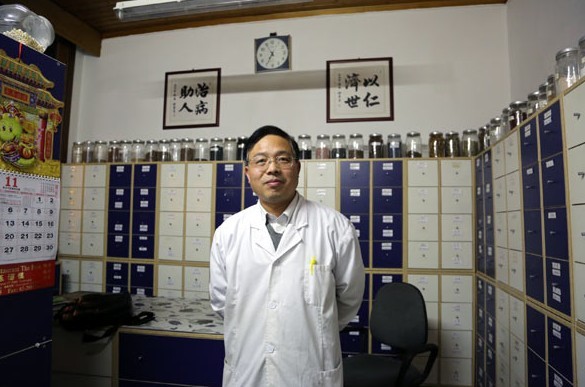 Wang Zhongbin, who has run a TCM clinic in Antwerp, Belgium, for eight years, says about 80 percent of his clients are non-Chinese. [Photo by Tuo Yannan / China Daily]
Effectiveness helps Oriental medicine in drive to attract European market
Looking at Rosemarie Austria lying on a bed at a TCM clinic in Antwerp, it is easy to believe that she is in a modern Western hospital. But a closer look shows that the 54-year-old Belgian is in a small three-bed clinic with her knees full of needles, a requisite for her second round of acupuncture treatment.
"Although it hurts a little, the procedure has worked wonders for my dodgy knees," she says, adding that she was the first among her friends and family to try out TCM treatment. Austria says she was attracted to TCM because it was a therapy using herbs and techniques that have been used in China for thousands of years.
"The severe pain in my knees was hampering my daily routine. One day I chanced upon the TCM clinic in Antwerp's Chinatown and decided to give it a try," Austria says.
The clinic, Renji Chinaturel Medical Center, is bang in the middle of Chinatown. Although the sign outside is small, it has managed to attract scores of patients who throng its doors every day in search of alternative therapies for common, recurring and, in many cases, chronic complaints.
Wang Zhongbin, who has operated the clinic for more than eight years, says the clinic specializes in acupuncture therapy.
The first thing that strikes you about the clinic is its compactness. There is just a small doorway and a flight of stairs that takes patients into the reception area. Here you can see various types of Chinese medicines in the countless small square cupboards, while pictures of acupuncture points hanging on the walls give the look and feel of a Chinese clinic.
In the clinic, Wang chats with his customers in English, French and Dutch, even as he moves swiftly among patients and adjusts the needles.
Wang was born in Jiangxi province in 1962. He became a Chinese medicine teacher and a doctor in his hometown after graduating. In 1997, when he was working as a professor and doctor at the Jiangxi University of Traditional Chinese Medicine, he was sent to Tunisia for a three-year stint as an acupuncture expert. He started learning French from then on, he says.
In 2000, on his way back to China, he stopped in Paris for a few days and fell in love with the city. In 2003, he went to the University of Poitiers in France for his second master's degree and was later invited by friends to set up a TCM clinic in Belgium.