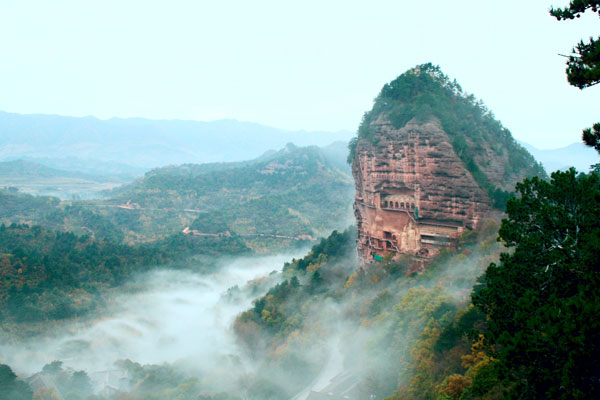 The 1,500-meter high Maiji Mountain is home to an abundance of relics dating back 1,600 years ago when Buddhism was first introduced into China. Tianshui Tourism Bureau / For China Daily
The caves, Buddhist sculptures and murals on Maiji Mountain in Gansu province have survived many natural disasters throughout the centuries. Li Yang feels spiritually recharged after a visit.
Before the trip to Maiji Mountain, I was only expecting to see a wheat-stack-shaped mountain, as its Chinese name indicates.
I drove all the way to the middle of the mountain without realizing that the clumsy and dull red sand rock koppie standing in front of me was it, until I saw the stone tablet carrying its name.
Maiji nestles at the base of high rocks. Although it is less than 100 meters high from bottom to top, its elevation is 1,500 meters.
Facing a large valley to its south cliff, Maiji appears to be the commander of all surrounding mountains.
Maiji stands tall as an isolated peak. It is a red sand rock cylinder peak, rare in the region, contrasting sharply with the others.
Nature has put it in the focus of the valley.