Nature's nirvana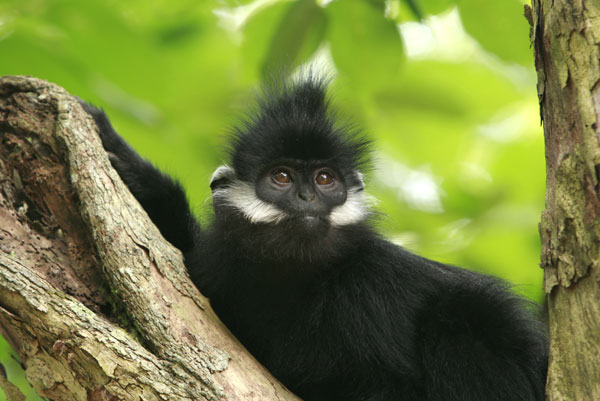 A male Francois' langur found in Nonggang National Nature Reserve in Guangxi Zhuang autonomous region. Liu Shengyuan / For China Daily
Nonggang National Nature Reserve is the proud haven of almost a dozen new fauna and flora species that were discovered in the last decade. Chen Liang visits the natural paradise.
While other scenic areas in Guangxi Zhuang autonomous region attract the hordes of tourists, Nonggang National Nature Reserve is a magnet for scientists fascinated with its treasure trove of discoveries.
Eight new species of plants, two new species of snakes and most remarkably, a new bird, have been discovered in the last decade.
Although the area is considered the best preserved among 16 national nature reserves in Guangxi, it still faces various threats, some of which "weren't threats at all until several years ago", says the reserve's director Meng Yuanjun.
Hotspot of discoveries
Located only 18 km southeast of the Vietnamese border in Longzhou and Ningming counties of southern Guangxi, Nonggang does not look any different from many of the region's scenic areas to a common traveler.
Sheer limestone karst formations dominate the reserve. In the flat and open valleys surrounded by limestone pinnacles are mainly sugar cane plantations and paddy fields. The scenery is beautiful, but not as picturesque as those found around Guilin, Guangxi's most famously breathtaking city.
What makes Nonggang different is its forest hidden in numerous nong (limestone gullies) and rich biodiversity nurtured by a unique ecosystem. The country's best-preserved karst monsoon subtropical rainforest is home to 28 species of mammals, including six primates, 50 species of amphibians and reptiles, nearly 150 bird species and 1,800 species of plants.
Climbing into a karst gully through a zigzagging trail, one can easily see wild undergrowth, tall trees with their roots sprawling over, bulking or biting into limestone rock formations and rampant creepers intertwining with all of them.
Nonggang's gullies are usually narrow, deep and wet under dense canopy, while trails are always steep, slippery and hard to follow. To explore them, you must get a reserve ranger as a guide.
There are 69 routes in the reserve covering an area of about 10,000 hectares for the reserve rangers' regular patrols and monitoring, says Meng.
"We can only cover a very small part of our reserve," the reserve director says in his office in Longzhou county. "Most forests on top of our hills are inaccessible. Many gullies are so hard to reach they have never been explored by outsiders.
"That's part of the reasons why Nonggang has never been short of scientific discoveries."
Besides the eight new plant species, he says, 11 species of plants found in the reserve are either Guangxi's or the country's new record species.
In November, 2011, Chen Tianbo, a protection station manager, caught a snake during a survey. Chen and his research partners later found out that the reptile was the same as the snake caught a little earlier in a Vietnamese reserve. It is a new species. In October 2012, researchers from both sides jointly published the finding.
"Nonggang's habitats are similar with some habitats in the reserves in Vietnam," Chen says. "In the scientific field, our competitors are often our neighbors."
What has really brought fame to the reserve is the discovery of Nonggang babbler.
The myna-sized brown bird, with a white crescent-shaped patch behind the ear and some grayish-brown spots on the white throat, is a new bird species discovered by Chinese ornithologists.
It is the second time Chinese scientists have found a new species of bird in the country. The first was in the 1930s.
"Since it was formally published in 2008, the Nonggang babbler has become the reserve's name card," Meng says. "More researchers came. We also began receiving birdwatchers from home and abroad."