Blast off for Tianzhou 1, China's first cargo spacecraft
By Zhang Zhihao in Wenchang, Hainan and Zhao Lei in Beijing | chinadaily.com.cn | Updated: 2017-04-20 19:48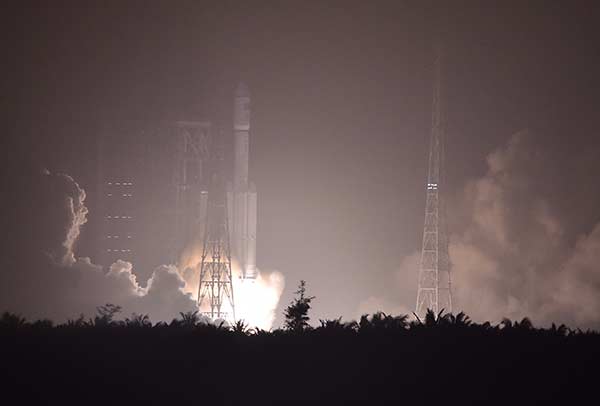 China's first cargo spacecraft Tianzhou-1 blasts off from Wenchang Space Launch Center in South China's Hainan province, April 20, 2017. [Photo by Su Dong/chinadaily.com.cn]
China launched its first cargo spacecraft at 7:41 pm tonight on a mission to test technology designed for the nation's planned manned space station.
Tianzhou-1, the largest and heaviest spacecraft ever built by China, was atop a Long March 7 carrier rocket that blasted off from the Wenchang Space Launch Center in Hainan province.
According to the China Manned Space Agency, after entering an orbit about 380 kilometers above the Earth, Tianzhou-1 will conduct three autonomous dockings with the Tiangong II space laboratory to supply fuel and other items.
This mission will allow scientists to test in-orbit resupply technology, which is essential to running a manned space station.
Tianzhou-1 will remain in space for about five months, spending two months with Tiangong II and three months in a separate orbit, the agency said.
If the mission goes to plan, it will make China only the second nation to successfully conduct in-orbit refueling, following Russia.
The cargo vessel, developed by the China Academy of Space Technology, is 10.6 meters long and has a diameter of 3.35 meters. Its maximum takeoff weight is 13.5 metric tons and it can carry up to 6.5 tons of supplies.
China's largest and heaviest spacecraft before Tianzhou-1 was Tiangong II, which is 10.4 meters long, has a diameter of 3.35 meters and weighs 8.6 tons.
Tianzhou-1's 6.5-ton payload capacity also makes it the world's most capable cargo spacecraft in service: Japan's H-II Transfer Vehicle has 6 tons of payload capacity; the Cygnus and Dragon, both US-made craft, have 3.5 tons and 3.3 tons respectively; and Russia's Progress-MS has 2.2 tons.
In the future, the Tianzhou series will be tasked with transporting supplies of fuel and other necessities to China's manned space station. Construction of the station will begin next year, and it is expected to enter service by about 2022, the agency said.