TV series about corruption hits close to home for many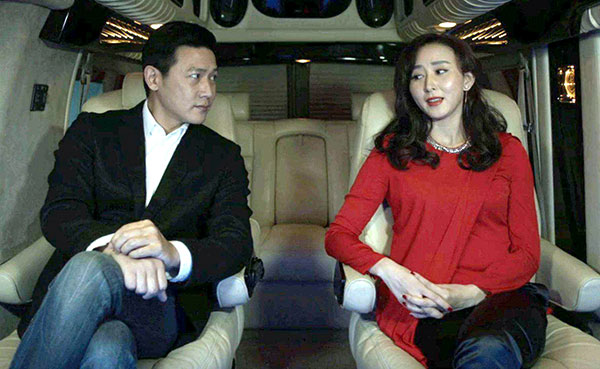 Screenshot of actor Lu Yi (left) and actress Hu Jing-who portrayed Gao Xiaoqin, an official's mistress-in the anti-corruption-themed TV drama In the Name of the People.[Photo provided to China Daily]
A 55-episode television drama-In the Name of the People-made its debut last month on Hunan Television, focusing on power struggles between government officials and their ingenious schemes for embezzling money and lining their own pockets.
For many Chinese, the series encapsulates their own experiences at the hands of corrupt officials.
"The stories in the TV series are so real," said Yang Guosheng, from Nanjing, Jiangsu province. "The scene that featured a forced demolition was reminiscent of what I have personally witnessed."
In the TV show, a demolition team wearing police uniforms forces its way into a factory and attempts to pull down the building, until workers light a fire and block their way.
"We've met with demolition teams disguised as police officers several times," Yang said. "They used all kinds of measures to try to driveus away and take over the land."
Nanjing has seen two major demolition campaigns, in 2006 and 2009, when Feng Yajun was head of Qinhuai district. Feng was sentenced to four years in jail and fined 300,000 yuan ($44,000) for taking bribery in February.
The anti-graft campaign shifted into higher gear after the 18th Communist Party of China National Congress in 2012.Most cases in the TV drama are based on real life.
The show's writer, Zhou Meisen, 61, was himself a victim of corruption. In the central plot, workers stage amass protest after losing their equity rights in a factory.
"I was a victim of the same kind of scam, when our employees' equity shares simply evaporated during a take-over," Zhou said, adding that a lawsuit over the dispute has yet to be settled.
Zhou published a novel under the same name as the TV drama in January. With the support of the Supreme People's Procuratorate, the top prosecuting authority, he was allowed to interview corrupt officials in prison.
"The reality is no less dramatic than what appears on the screen," according to an official in Taiyuan, Shanxi province, who asked not to be named.
In the drama, a city police chief makes an ostentatious display of weeping profusely at the funeral of a high-ranking official's father, and does garden work in an attempt to curry favor with a revered retired prosecutor.
"I've seen worse things," the official said. "I once saw a man rush to tie the shoelaces of his superior."
Changes underway
Shanxi is home to some of the worst corruption in China. Amass fall from grace has had major administrative repercussions. In 2013 alone, 15,450 officials and cadres were punished for graft.
The nationwide anti-corruption campaign has brought results that many people can see. Yang in Nanjing said he believes forced demolitions are less common today and that officials "are more self-disciplined".
Last year, courts across the country handled a total of 45,000 graft cases involving 63,000 people, according to the Supreme People's Court.
TV audiences have shown a deep interest in the corruption fight. In the Name of the People has been the most watched show this year, both on TV and online.
In the Name of the People stars Hu Jing as Gao Xiaoqin, an official's mistress. She said she had worried about the show broadcasting some details that were "too sensitive". In the drama, her character, together with her sister, have affairs with several officials and use their power to make a fortune.
"From the TV show, we see China's determination against corruption," said an office worker in Shanxi who did not want to be named. "We have been talking about anti-corruption for so long that some people may have become numb to it, but the drama refueled people's enthusiasm."
Lu Runsen, former vice-chairman of the Yuci commit-tee of the Chinese People's Political Consultative Conference in Shanxi, presented a hopeful vision. Yuci is home to businesswomen Hu Xin and Hu Lei, on whom the characters Gao Xiaoqin and her sister are thought to be based.
"Hopefully, the Party's 19th National Congress will deliver a healthy mechanism of official promotion," Lu said. "We attached great importance to economic development, during which the line between right and wrong became blurred. It's time to raise the quality of our civil servants."
Xinhua