Xi: Belt and Road Initiative makes mark in global community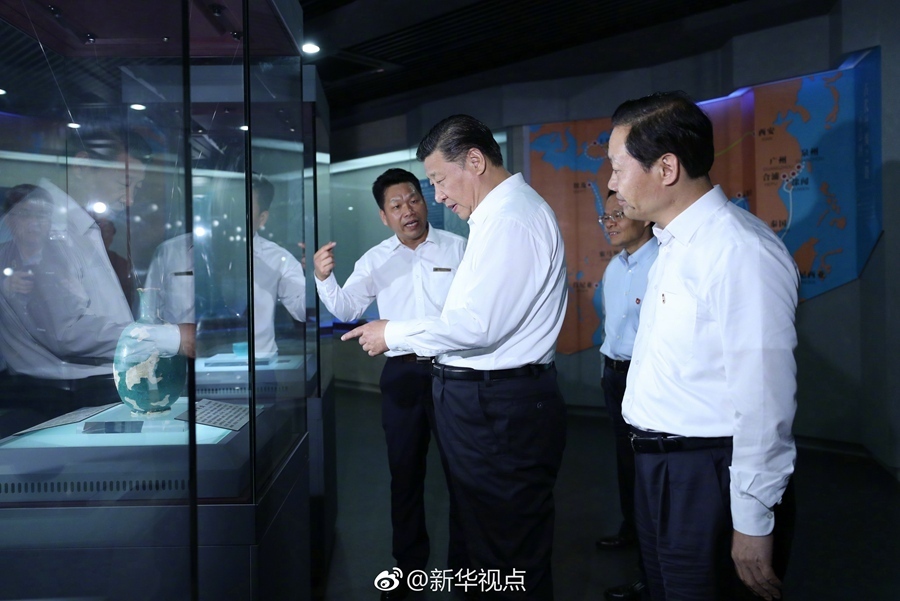 President Xi Jinping visits the Hepu Han Dynasty Museum in Beihai, south China's Guangxi Zhuang autonomous region, April 19, 2017. [Photo/Xinhua]
The China-proposed Belt and Road Initiative has been widely echoed and accepted by the international community since it was put forward three years ago, President Xi Jinping said on Wednesday.
Xi, also general secretary of the Communist Party of China Central Committee and chairman of the Central Military Commission, made the remarks while visiting the Tieshangang Yard in Beihai city of South China's Guangxi Zhuang autonomous region.
Before inspecting the yard, Xi paid a visit to the Hepu Han Dynasty Museum, where there are collections of relics related to the ancient trade of the maritime route.
Xi held talks with the workers at the yard and told them that both the museum and the yard he had visited had important links with the Belt and Road Initiative.
The Silk Road Economic Belt and the 21st Century Maritime Silk Road Initiative, put forward by Xi in 2013, aims to revive the ancient trade routes and boost the interconnection between the regions.
Mentioning that Beihai played a role in the ancient maritime silk road, Xi told the workers to be dedicated to the implementation of the 21st Century Maritime Silk Road.
China will boost openness and development under the Belt and Road framework, to achieve the goal of great rejuvenation of the nation and fulfill the Chinese dream, he added.