Home / China / Innovation
Tianzhou 1 cargo spacecraft moved to Wenchang launch site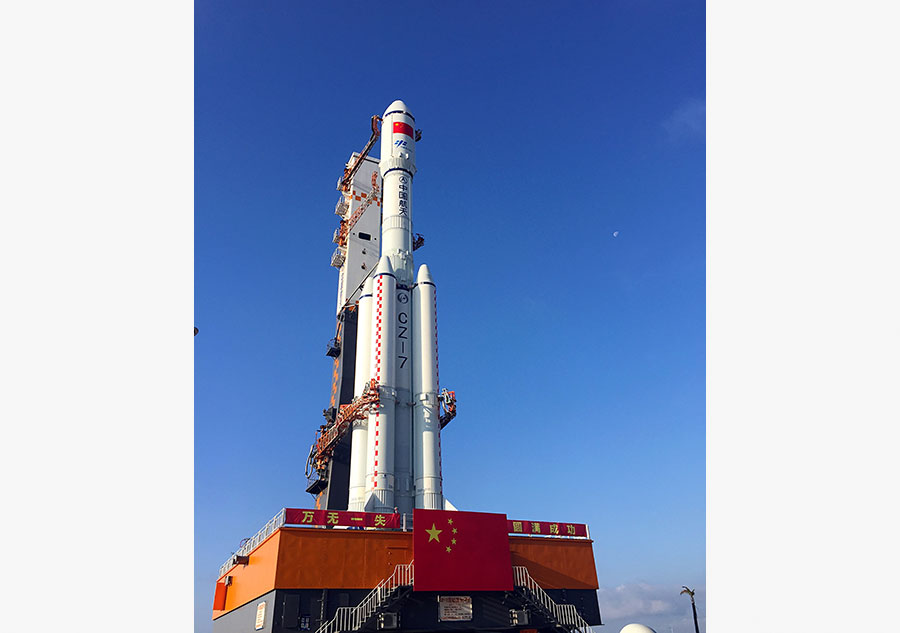 Tianzhou 1, China's first cargo spacecraft was moved to its launch site at the Wenchang Space Launch Center in Hainanprovince on Monday morning.[Photo provided to China Daily]
The rocket carrying China's first cargo spacecraft, the Tianzhou 1, was moved to its launch site at the Wenchang Space Launch Center in Hainan province this morning.
The mission, to be carried out between Thursday and Monday, will mark the second launch of the new-generation Long March 7 rocket, according to the China Manned Space Agency.
Starting at 7:30 am, it took about two and a half hours to move the rocket and Tianzhou 1 to the launch site. Engineers will conduct final tests and fuel up the rocket, the agency said.
Tianzhou 1 was transported by sea to the Wenchang center from Tianjin, where it was built, in mid-February. After its launch, the spacecraft will dock with the Tiangong II space lab, which has been in orbit since September.
The cargo ship was developed by the China Academy of Space Technology and is 10.6 meters long and has a diameter of 3.35 meters. Its maximum takeoff weight is about 13 metric tons, which will enable it to carry nearly 6 tons of supplies.
The main goals of the mission are to supply fuel to Tiangong II and to test in-orbit refueling technologies, the agency said. In addition, the cargo ship will ferry more than 10 pieces of scientific equipment.