Food, liquor labels a fraudster favorite
Authorities say fake trademarks threaten public health, city's image
Food and liquor brands are favored targets of criminals looking to profit by forging well-known trademarks, a report by Beijing's top prosecuting authorities said on Thursday.
In 2016, prosecutors in the capital accused 51 people of forging trademarks. Of those, nearly 85 percent involved counterfeiting popular Chinese food and liquor trademarks - including Beijing duck and baijiu, the national drink of China - according to the report released by the Beijing People's Procuratorate.
"We found some defendants had no food hygiene licenses, let alone a clean and regulated process to produce food and liquor," said Wang Wei, deputy chief prosecutor of the authority. "They bought raw materials at a very low price, processed them roughly and then sold them in the name of registered trademarks in market."
For example, a resident surnamed Bai was found putting partially cooked duck meat purchased from wholesale markets into packages with the well-known Quanjude trademark in a small workshop in Changxindian township of Beijing's Fengtai district from April to September last year. Quanjude is a Beijing-based restaurant chain known for its roast duck.
Bai brought in 680,000 yuan ($98,800) by selling the fake meat. When he was arrested on Sept 23, police officers found 696 packages of fake Quanjude duck in his workshop, along with delivery invoices and many packages displaying the trademark.
All the goods were verified as counterfeit.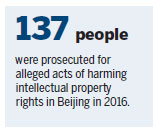 On March 28, Bai was sentenced by the district court to two years and six months in prison for infringing on a registered trademark, and was fined 150,000 yuan.
"Such crimes not only damage the interests of trademark owners but also harm residents' health. That's why we fight them without hesitation," Wang said.
Jiang Shuzhen, director of the prosecuting authority's economic crime supervision department, said forging Beijing's traditional and well-known trademarks also damages the city's image and hurts tourism.
While increasing supervision has been directed toward the safety of food and medicine as required in recent years by the Supreme People's Procuratorate, she said cooperation needs to improve with other government departments.
"A platform on which the city's administrations, including commercial and industrial departments, can share information is being considered. I believe it will help us a lot to seek clues and effectively fight counterfeit-related crimes," she said.
In 2016, the city's prosecutors approved the detention of 80 people and prosecuted 137 people suspected of harming intellectual property rights across the city. Of those, most related to trademark infringement - including foreign brands, mainly from the United States, Europe, Japan and South Korea, the report said.