China apartment blast death toll rises to five, rescue ends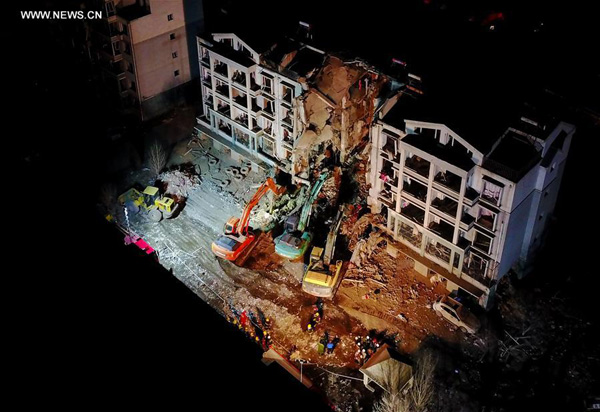 Photo taken on March 25, 2017 shows the scene at the accident site in Tumd Right Banner of Baotou city, North China's Inner mongolia autonomous region.[Photo/Xinhua]
HOHHOT - Rescuers combing the rubble of a half-collapsed apartment building in North China found two more bodies as they wrapped up the search, bringing the death toll of Saturday's explosion to five.
In a press briefing on Sunday morning, the government of Tumd Right Banner in Baotou city, Inner Mongolia autonomous region said the latest victims were lifeless when they were found at the blast site. The rescue has now ended after a meticulous search for any survivor.
The building in Xiangyang residential community was ripped through by an explosion early Saturday afternoon. It was so powerful that one of the three connecting blocks of the apartment was almost gone. Window panes of many nearby buildings were shattered.
On Saturday, the government said 25 people were injured, including four in critical condition, and 83 homes were damaged.
The government said the cause is still being investigated. Earlier reports indicated that it might have been caused by a blast in the residential natural gas piping system.