China issues blue alert for cold wave brought by blast of strong cold air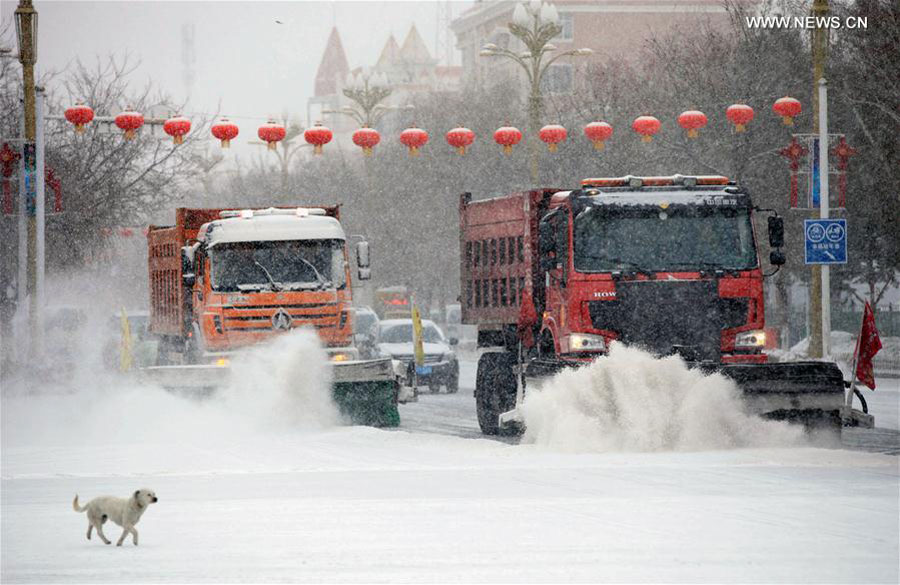 Snow movers clean streets in Altay, Northwest China's Xinjiang Uygur autonomous region, Feb 19, 2017. A blue alert for cold wave brought by a blast of strong cold air was issued on Sunday, according to the National Meteorological Center. [Photo/Xinhua]
BEIJING -- A cold front will hit North China from Sunday evening to Tuesday, bringing strong gales and low temperatures, according to the National Meteorological Center (NMC), which issued a blue alert for the cold front.
Xinjiang Uygur autonomous region and most of North China will see temperature drops of up to 12 degrees Celsius, as well as high winds, the NMC said.
Sand and dust will accompany the cold front and sweep over regions in south Xinjiang, Gansu province and Inner Mongolia autonomous region.
From Sunday to Monday, Xinjiang, Qinghai, Gansu, Shaanxi, Heilongjiang and Jilin will continue to see light to moderate snow.
China has a four-color warning system for severe weather, with red being the most serious, followed by orange, yellow and blue.