Lam Cheng Yuet-ngor elected as Hong Kong's new chief executive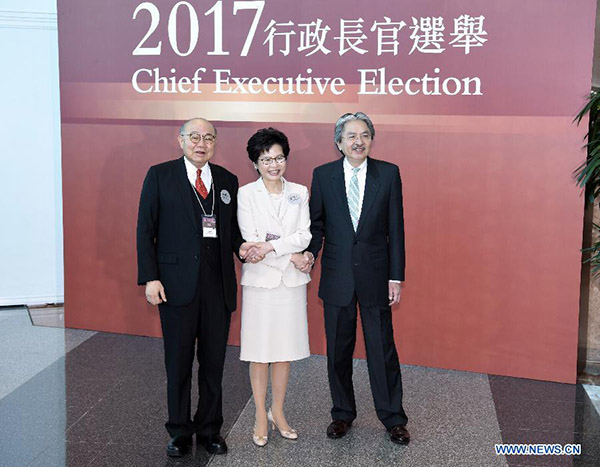 Candidates Tsang Chun-wah, Lam Cheng Yuet-ngor and Woo Kwok-hing (from R to L) pose for a photo in Hong Kong, south China, March 26, 2017. The voting for the fifth-term chief executive of China's Hong Kong Special Administrative Region (SAR) started on Sunday. [Photo/Xinhua]
HONG KONG - Lam Cheng Yuet-ngor on Sunday won the election of the fifth-term chief executive of China's Hong Kong Special Administrative Region (SAR).
The Electoral Affairs Commission of the Hong Kong SAR declared that Lam garnered 777 of 1,163 valid votes, followed by Tsang Chun-wah with 365 and Woo Kwok-hing with 21.
A candidate wins the election when he or she obtains more than 600 valid votes in any round of voting and will be appointed by the central government, according to Hong Kong's Basic Law and the Chief Executive Election Ordinance.
After the appointment, the winner will take oath of office on July 1 and become the fifth-term chief executive.
The voting started at 9 am local time (0100 GMT) and nearly 1,200 members of the Election Committee for the next chief executive cast their votes by secret ballot at the main polling station in the Hong Kong Convention and Exhibition Center.