Things in Hong Kong that need fixing
Updated: 2017-03-20 08:32
(HK Edition)
| | | | | | | | | |
| --- | --- | --- | --- | --- | --- | --- | --- | --- |
|   | | Print | | Mail | | Large Medium  Small | 分享按钮 | 0 |
Hong Kong is gripped by election fever with less than a month to go until the Chief Executive election on March 26. Whoever is the winner, Hong Kong's next CE will have a critically important job in putting Hong Kong back on the rails, both politically and economically. If Hong Kong is to be a happier place with less extreme inequality, then the new CE must insist that our highly paid civil servants come up with some new policies to achieve this rather than just shuffling paper as usual.
First, the power of property developers in this city should be diminished. The former colonial government created a monster that helped to build the city's prosperity but must now be restrained if the city is to have a sustainable future. In Singapore, the public to private housing ratio is 80:20 whereas in Hong Kong it is less than 50:50. The government connives with this because it relies on revenue from high land and property prices to compensate for its low tax income. There are three possibilities: Introduce an unpopular Goods and Services Tax (GST) to reduce dependence on land revenue; allow developers to pay land premiums in instalments rather than the huge upfront capital payments which push up property prices; and third, change the ambit of the Capital Works Reserve Fund, which at present dictates that all land-related revenue must be spent on capital works projects rather than on education, health or welfare.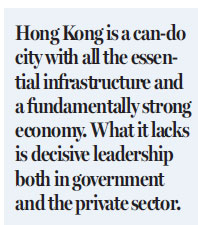 Next, get the developers' hands off our country parks which are a precious resource for our children and grandchildren. Put a time limit on the development of land banks. Use brownfield sites for housing development and grasp the nettle of abolishing the Small House Policy with due compensation. Increase the production of affordable Home Ownership Scheme flats.
Get our traffic moving again! Persuade the police to resume enforcement of illegal parking and idling engines. Double taxes on private cars and introduce Electronic Road Pricing (which was ready to be implemented back in 1983) to reduce chronic traffic congestion, and make regulations to have all urban goods deliveries in the early morning or evening. Harmonize tunnel tolls so that vehicles use the shortest route rather than the cheapest.
Revamp our education system! Have you ever wondered why Hong Kong does not produce innovative people like Steve Jobs or Bill Gates while producing competent academics and professionals? Reduce our exam-based system and make our public education more holistic. Teach people to think outside the box rather than pass exams. Encourage excellence by paying higher salaries to teachers and introduce smaller classes to encourage classroom interaction.
Clean our air! Incentivize use of electric vehicles, increase the burning of gas by power companies and negotiate with the Pearl River Delta authorities for an upgrade in their vehicle fuel quality. Ban the burning of filthy bunker fuel by commercial shipping within 50 km of Hong Kong. Sure, there will be costs but many local residents have indicated they are willing to pay a premium for cleaner air. Review the Shek Kwu Chau super-incinerator project - old technology in an area of outstanding natural beauty.
Hong Kong's political system needs to be reformed. Some accommodation must be made to make the election of the CE and the Legislative Council functional constituencies more representative. Until this is done, opposition politicians will continue with their filibustering and obstruction, which is in no one's interest. The government must have the courage to confront entrenched vested interests which are clearly in conflict with the well-being and quality of life of the majority of our citizens.
The next government needs to be bolder in its outlook. It can start by asking why we have been left in the dust by a brand new city with still drying paint to the north which was no more than a rural village barely three decades ago. We have a saying for this: Nothing ventured, nothing gained. Our government was hampered by risk-averse leadership and a reluctance to take responsibility. Hong Kong is a can-do city with all the essential infrastructure and a fundamentally strong economy. What it lacks is decisive leadership both in government and the private sector.
The author is a former Hong Kong civil servant, serving various key bureaus and departments.
(HK Edition 03/20/2017 page1)