Chinese mother devoted to HIV/AIDS education, prevention for young people
UNITED NATIONS -- Zhang Yinjun, who founded a non-profit program to help young people across China to prevent HIV/AIDS, told Xinhua that as a mother, she was very much saddened and worried to read heart-rending news stories about the growing number of Chinese young people who have contracted human immunodeficiency virus (HIV), which causes the killer disease AIDS.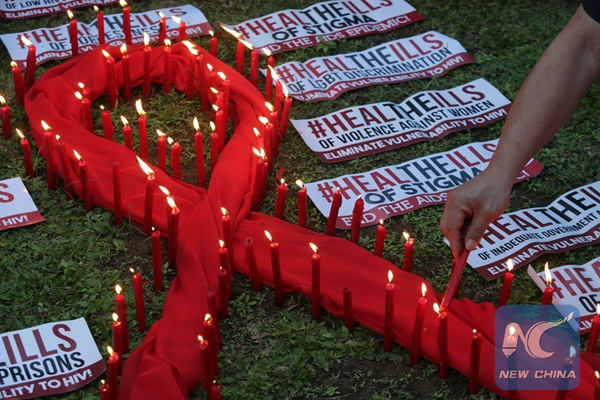 A man lights candles on a red ribbon-shaped cloth in observance of the World AIDS Day in Quezon City, the Philippines, Dec. 1, 2016. [Photo/Xinhua]
Zhang quit her job at the Chinese Ministry of Public Health 12 years ago to set up the AIDS Prevention Education Project for Chinese Youth (APEPCY). She has dedicated the past years to HIV/AIDS prevention education and poverty alleviation among Chinese youth.
"We primarily offer education focused on HIV/AIDS prevention and treatment, comprehensive sex education and personal development training," said Zhang, who was at UN Headquarters in New York to attend a two-week meeting of the UN Commission on the Status of Women (CSW), which began on March 13.
The CSW is the principal global intergovernmental body exclusively dedicated to the promotion of gender equality and the empowerment of women.
Zhang and her team carried out the program by offering classes and lectures.
The class, known as "Youth Love Cabin," is sponsored by the APEPCY to promote sex education in Chinese schools, including kindergarten, primary school, middle school and universities all around China to help prevent HIV/AIDS transmission among youths.
Zhang said that she started this program because she believed that effective HIV/AIDS prevention lies in better sex education for youngsters.
"We aim to prevent the transmission of AIDS from the root source, and to curb the spread of HIV/AIDS, especially among adolescents," she said.
However, the program did not have a happy beginning in a country where sex education has been a taboo subject for centuries, she said.
"Initially, people shied away from us just like what they did to plagues," she said. "Some people even called me 'Dr. Porn'."
In order to reach out to more people, Zhang had to sustain the program with her own money and turned her apartment in Beijing into the program office in her early years of the endeavor.
Against a backdrop of the rising number of Chinese living with HIV/AIDS, there has been no official sex education in schools to teach students how to protect themselves, she said.
Her unremitting efforts paid off as a moved headmaster was willing to introduce the program into his school, marking the beginning of the national recognition of the benefit of the program.
Since its establishment in 2006, APEPCY has set up more than 1,000 AIDS prevention centers, or cabins, in more than 20 provinces and cities in China to explore a new way to teach AIDS prevention and sex education, she said. In total, more than 10 million students, teachers and parents have directly benefited from this work.
"In particular, our work in China's Yunnan province has received the attention and support of UNAIDS, where we carry out cross-border as well as cross-sector cooperation," Zhang said.
In September 2016, Michel Sidibe, the UN under-secretary-general and UNAIDS executive director, traveled to Yunnan in South China and visited the local APEPCY stations.
He commended the efforts and expressed the hope that Zhang and her team can share their experience in sexuality education with schools in other parts of the world.
AIDS prevention and treatment were also incorporated into the 2030 Agenda, a guideline for global sustainable development efforts for the years running up to 2030, Zhang noted.
"In my 12 years of this charitable work, I have had the most contact with women and children," Zhang said, adding that she and her team have helped more than 12,000 families in poverty, most of whom live near the border areas of China.
"I feel that I need to motivate more women, and more mothers to be involved in this endeavor," she said.