Bill Gates' foundation to work closer with China on poverty alleviation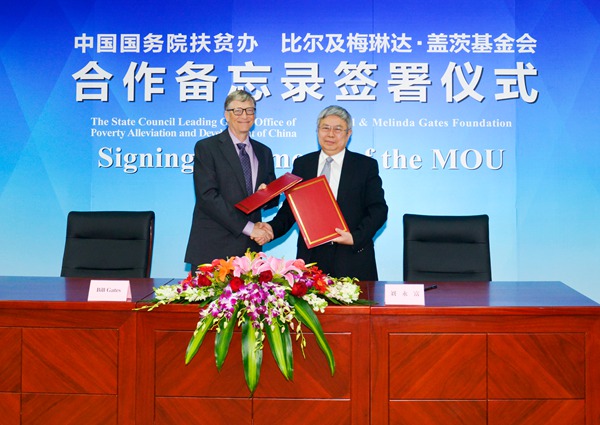 Billionaire business magnate Bill Gates (L) shakes hands with Liu Yongfu, head of the State Council Leading Group Office of Poverty Alleviation and Development, after they sign a memorandum of understanding on Friday to deepen cooperation in China's ongoing nationwide campaign of poverty relief. [Photo provided to chinadaily.com.cn]
Billionaire business magnate Bill Gates signed a memorandum of understanding with the Chinese government on Friday to deepen cooperation in the country's ongoing nationwide campaign of poverty relief.
The memo indicated that there will be further collaboration between the Bill and Melinda Gates Foundation and the State Council Leading Group Office of Poverty Alleviation and Development on sharing China's poverty alleviation gains with others, making better anti-poverty strategies and training new talent.
Liu Yongfu, head of the poverty alleviation office, said at the document signing that China welcomes international support and is willing to share its poverty alleviation experience with the world.
Gates noted that of all the people lifted out of poverty between 1990 and 2010, 75.7 percent were in China, applauding the country for being the biggest contributor to the United Nation's Millennium Development Goal to eradicate extreme poverty.
In addition to poverty alleviation, Gates' foundation also plans to work with the Chinese government to improve health services in rural areas, provide better food for children living in poor regions and provide impoverished people with financial assistance.
China still has 43.35 million people living in poverty, defined in 2010 as those earning less than 2,300 yuan ($334) per year, but has vowed to eradicate poverty by 2020.